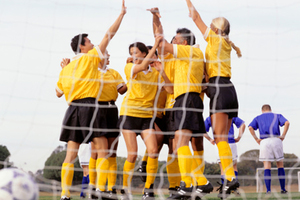 A cash-strapped Romanian second division side, CS Buftea, paid the price for fielding a side of teenagers when they were thumped 31-0 by the third-tier ACS Berceni in a Romanian cup match.
Local media reported the loss as the heaviest defeat in Romanian football.
However it does not come close to breaking the record for the highest score in association football, which stands at 149-0, from when AS Adema of Madagascar thrashed arch-rivals Stade Olympique de L'Emyrne in 2002.
Buftea celebrated promotion to the second division in May, but a team containing predominantly under-19 players were on the wrong end of an avalanche of goals in the fourth preliminary round match.
Buftea, located 20km north-west of capital Bucharest, had hoped to improve after a tough first half in which they conceded 12 goals - but after half-time they let in another 19. Local media reported the loss as a record defeat in Romanian football.
The victorious ACS Berceni president Stephen Stana said the experience had left him feeling uncomfortable. "I'm ashamed to tell you the score. But it's not our fault that they disregarded the competition."
Australia set a world record for the largest victory in an international football match in 2001, beating American Samoa 31-0.
- HERALD ONLINE