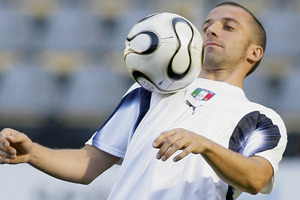 A-League club Sydney FC are reportedly trying to sign former Juventus and Italy striker Alessandro del Piero as their marquee player for the upcoming season.
The Sky Blues have a marquee spot available, which falls outside the salary cap, after Nicky Carle's shift to UAE club Baniyas.
It remains to be seen whether the club has the cheque book to attract del Piero, or if the Italian free agent is interested in a move to Australia.
But Sydney FC chief executive Tony Pignata says his club would be chasing the 37-year-old's signature ``as hard as we can''.
"The board is 100 per cent behind this. We believe he's the perfect marquee player,'' Pignata told The Sydney Morning Herald.
"We've already made an approach to his management team, and we're waiting to hear back.
"This is not a gimmick, it's deadly serious. To get a player of his stature would be huge, and we know that.
"I can't say whether we'll be able to compete with whatever other offers he may have in a financial sense, but I do know playing over the summer, in a city like Sydney, gives us a real selling point.''
Del Piero became a free agent in May after playing a record 513 matches for Juventus.
- AAP