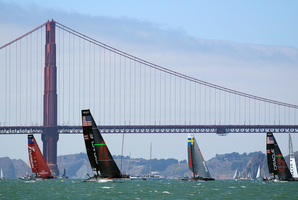 With a disappointing America's Cup World Series regatta in San Francisco over, Emirates Team New Zealand now returns home to seek answers while keeping an eye on next year's bigger picture.
The team's poor form in the AC45 catamaran continued in the final races within sight of the famous Golden Gate Bridge, with a fourth place in the match race semifinals and another poor performance in the final fleet race.
Team New Zealand will now focus on testing the larger AC72 cat, which will be raced in next year's America's Cup proper, troubled by the perplexing results in the AC45 which is being raced by the Cup teams as preparation.
Skipper Dean Barker said the team had been flat all week in San Francisco. "We didn't spark - we let ourselves down.
"We have a long way to go to get back to our best."
Barker said the one positive for the regatta was that "a week ago we had never sailed a catamaran on the Bay. Now we have some knowledge of local conditions even though our understanding is far from complete".
Chief executive Grant Dalton, who spent the regatta in a chase boat, said the team had a lot of work ahead of it.
"We have never been off the podium since the unsuccessful 2003 defence of the America's Cup. San Francisco is the team's worst result since then," he said.
"Throughout this week, I kept expecting it to come right but it never did. It was more than just one of those regattas that didn't go our way.
"We have only a month before the next regatta to turn it around without losing sight of the AC72 programme."
- APNZ