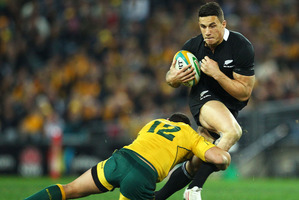 That's it ... for now and perhaps forever.
Only Sonny Bill Williams knows and perhaps he's not too sure what his sporting future will bring.
When he gets back to Sydney and settles back into playing rugby league, his All Black career may remain stalled at 19 internationals.
If so, Williams left on a high note as one of the central planks in the All Blacks' 22-0 victory against the Wallabies.
After making the All Blacks, he began to understand the rhythm of the team, their record and traditions which have pushed them to the top of the rugby tree.
The last of the June tests against Ireland was supposed to be his final game in black until he answered an SOS to help out while Conrad Smith was injured.
"That's probably when it hit home the most," Williams recalled.
"Every week we get into a huddle and just before we run out, skip [Richie McCaw] says there's this group of men and there are a lot of people who want to be involved in this circle. I guess you feel it but you don't understand it until you are outside that circle."
When Williams received a please help call from Steve Hansen, it meant that dream was not quite over.
He got two more tests against the Wallabies and now heads off to a short rugby stint in Japan before going to Australia.
"The last few weeks I put the emotion aside and did my job. It will be tough leaving," he said.
Williams agreed his rugby knowledge was raw when he turned up in New Zealand but eventually came to understand the code and, who knew, he might return.
Hansen assessed that even a year ago Williams was a little impatient about his rugby development.
He had dreams and all the tricks needed to succeed but did not know when to use them.
"But like Brad Thorn, he has now got a game understanding," Hansen said.
It took time when a player changed codes.
Williams had been in scintillating form for the Chiefs and All Blacks this year and had a Super 15 medal to add to his World Cup memento.
"It is a shame he is going but we understand and hope he returns," the coach said.
The All Blacks and NZRU had talked a number of times with Williams and he would be welcome to return. There was a feeling he was reluctant to leave but he had made his promise.
"The best part is he has gone to another level in his play," Hansen said, "and people can see how good he is."