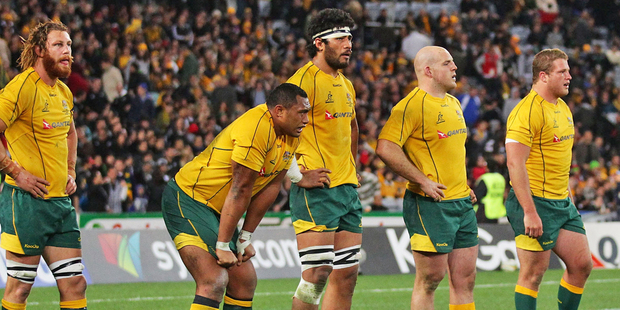 The Wallabies haven't held the Bledisloe Cup since 2003 and a former Australian test player says it could be another decade before they capture it again.
Australia take on the All Blacks at Eden Park on Saturday night, where they haven't won since 1986, needing a victory to keep their Bledisloe Cup hopes alive after a 27-19 defeat last weekend.
Former Wallaby first-five Mark Ella doesn't only lack confidence in the side ahead of this week's encounter but also predicts a lean decade for the two-time World Champions.
"We haven't won the Bledisloe Cup for 10 years - and I think it's going to be another 10 years before we get there," Ella said at a speaking engagement this week.
"Rugby to me has been terrific, which makes me cringe a little bit when I watch the current crop," the Sydney Morning Herald reports.
Ella played 10 tests against the All Blacks from 1980 to 1984, winning on four occasions, and was an integral part in Australia retaining the famous trans-tasman trophy with a 2-1 series victory in 1980.
Since handing over the Bledisloe Cup at Eden Park in 2003, the Wallabies have played the All Blacks 26 times winning just six tests.
The last time they beat the All Blacks on New Zealand soil was at Dunedin in 2001.
"A lot of people in rugby will say that rugby is in crisis - we're not in crisis, we're just having a bad time," Ella said.
"It's almost like the depression. It's been for three or four years since we've been in depression and we need to get out of it."
- HERALD ONLINE