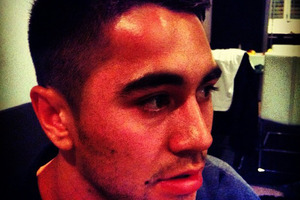 Warriors halfback Shaun Johnson has a painful reminder of an equally hurtful 18-16 defeat by the Panthers at Mt Smart yesterday - a lump on his head courtesy of teammate Russell Packer.
Johnson received an accidental high shot from prop Packer during the match and posted a picture of his injury on his Twitter account today.
Asked if he had exchanged words with Packer, Johnson told media: "No, he apologised and he's a bloke I can't really get smart to. He's a lot bigger than me so I just took it."
Johnson scored an 80m intercept try against the Panthers to put the Warriors out to a 10-0 lead before the familiar defensive frailties set in.
The loss to the Panthers was the Warriors' sixth in a row and heaps more pressure on coach Brian McClennan, who is struggling in his first year in charge of the club.
- APNZ