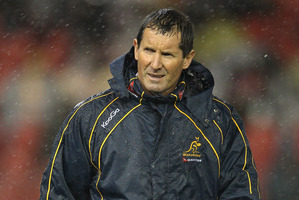 It was a surprise result. Not so much that Herald on Sunday columnist Richard Loe topped the poll in an Australian media survey of the All Blacks Australians most love to hate this weekend.
No surprises there ... but one of the names on the top 10 list was the Wallabies' own coach, Robbie Deans.
The Sydney Daily Telegraph's poll showed Australians had long memories. Loe's infamous re-arranging of Wallaby winger Paul Carozza's nose in 1992 is well remembered 20 years later. Loe polled 39 per cent of the vote.
Second on the list was current All Black captain Richie McCaw or, as the newspaper called him: 'Richie "Hands off Black Seven" McCaw'. He came a close second to Loe with 35 per cent of the vote.
Sean Fitzpatrick polled a tidy 11 per cent, while Jonah Lomu (8 per cent) and Colin "Pinetree" Meads (5 per cent) trailed further behind.
Sonny Bill Williams - perhaps predictably given his abrupt departure from the Bulldogs in this strong rugby league city, was next. However, following him was, perhaps surprisingly, the polarising talents of one Ali Williams, Justin Marshall, Buck Shelford and, at No10, Robbie Deans.
The poll findings may have meant that Steve Hansen's so-called "verbal grenade" over Deans' selections during last year's World Cup found more fertile ground than the Australian media supposed when writing up Hansen's assertion that the Australians erred in not selecting Quade Coooper - another New Zealander by birth - for last year's World Cup semifinal.
The Daily Telegraph said: "Highlighting his selections heaps further pressure on Deans, who has managed just three wins in 15 tests against the All Blacks and has been criticised for leaving Cooper out of his 22-man squad."
The newspaper also said Hansen and Deans coached together at the Crusaders but their history was strained, with the pair reportedly falling out years ago before Hansen left New Zealand to coach in Wales.
Hansen's assertions about Deans had ended an attempted truce between the pair after they had refused to bite on questions about each other or their rivalry.
Hansen's comments were especially surprising given he made a point last week of telling media to forget about drumming up stories on his personal battle with Deans.
The two coached against each other for the first time in the international arena last night.