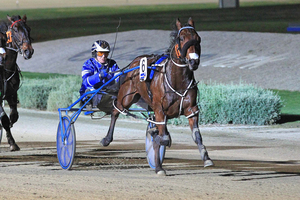 New Zealand trainer Steven McRae has declared war on hot Kiwi favourite Border Control in their rich Australasian Breeders Crown final.
And that could make their clash one of the races at Sunday's A$1.5 million meeting at Melton.
McRae trains Franco Nelson, who had to settle for third behind Border Control in their semifinal last Friday, although their performances were equally impressive.
Border Control, as has been the case in most of his Australian starts, led easily and was too strong, but Franco Nelson covered more ground after starting from the outside of the second line and racing parked for the last lap.
While Border Control is the $1.80 favourite with Australian bookmakers to win Sunday's A$303,000 group one, Franco Nelson has already beaten him before, at Addington as part of a four-race unbeaten domestic campaign.
That gives McRae the confidence to instruct driver Craig Thornley to dominate the race on Sunday, for which he has barrier one and Border Control barrier three.
"I know a lot of people will think we should hand up to Border Control and use the passing lane to try and beat him but I don't see it that way," said McRae.
"It is hard enough to get a good horse into one of these finals with a great draw so we might as well use it.
"So I want to be in front and put Border Control off his game and make him cover more ground. If we just concede the lead to him at the start I think we are almost conceding the race."
That sort of talk could significantly affect the market for Sunday, with most punters and bookmakers rating it a two-horse race.
If Franco Nelson is to hold the lead - and McRae is adamant he has the gate speed to achieve that - then not only does it potentially hinder Border Control but it sets up the possibility of an early burn which could bring others into the race.
Franco Nelson was already the centre of decent support with bookmakers yesterday and it would not surprise to see that continue this week as TAB Sportsbet and several corporate bookmakers opened markets as early as Monday morning.
McRae is hoping a win by Franco Nelson on Sunday will provide him with further exposure on the Australasian stage, increasing his options for the future.
He is already one of New Zealand's most respected harness horsemen, operating mainly as the private trainer for Spreydon Lodge, for whom he has established a wonderful strike rate.
"But things are changing slightly in the way we do business and that has opened the door for more outside horses," says the 41-year-old.
"And I have to look at my future, too, so it is nice to have a really good horse to fly the flag."
So how good is Franco Nelson?
"Well, I've been working at Spreydon Lodge for 20 years and he is the best young horse we have had, better than any of our other national record holders or group one winners as young horses."
And potentially their first ABC winner.