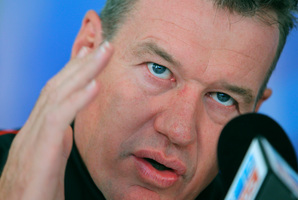 When he applied to coach the Blues, John Kirwan was determined not to make any compromises.
If the interview panel wanted him, they would have to agree to his ideas about improving the franchise.
There would be no deals, no bargains. Rugby coaching was his preferred career and if the Blues accepted his bid, they would have to accept his methods and schemes.
So when Kirwan got the tick, he began settling on the foundations and personnel he wanted.
He would be the boss but he wanted the best group he could assemble. He wanted to be challenged and he wanted to pick the best brains in the business.
As he went through those names, Graham Henry became a recurring thought. Would he, perhaps, or was he over fulltime rugby work?
If he could persuade Henry to be a technical adviser where he could run the defence and offer his vast experience, the Blues and Kirwan would benefit.
It would be a similar role to the one Wayne Smith has been performing with the Chiefs, where the former All Black coach was prepared to deliver for the cause without wanting any of the limelight.
Henry has agreed to join the Blues but they won't publicly discuss it for a while yet.
Kirwan's other assistants when he coached Japan, Mick Byrne and Grant Doorey, will also join their former boss on the Blues' coaching staff.
After six years with the All Blacks, Byrne spent last year as their kicking coach while also working as the forwards and lineout tutor for Japan.
That was a significant financial package and it's understood Byrne was reluctant to commit himself solely to a Blues' offer for their next campaign.
However, the NZRU got involved and agreed the All Blacks needed Byrne to assist in the inaugural Rugby Championship.
That dual portfolio persuaded Byrne to sign, and he will be joined at the Blues by Doorey, who had worked with Kirwan at Italy and then Japan.
While the Blues are assembling their coaching group, they have not yet settled on who will manage the side.
However, it is clear that with Kirwan, Byrne and Henry on board, discipline will be much stricter next season and players who do not abide by the required fitness and behaviour standards will not be given much leeway.
Since the Blues last won the Super rugby crown under Peter Sloane, they have been in decline.
They have finished 5th, 7th, 8th, 4th, 6th, 9th, 7th, 4th and 12th.
After his World Cup triumph, Henry took up a deal mentoring coaches in the Super 15 and ITM Cup. He has a similar role with the Argentine Rugby Union, is on the after-dinner speaking circuit and contributes to a rugby media site.
While those jobs kept him in touch with rugby, he did not feel connected enough. Now he will be near the coalface again, close to the furnace, encouraging and mentoring one of his former pupils.