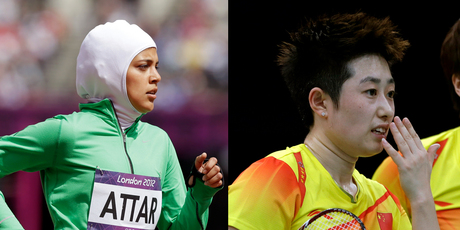 As the Olympics enters its last few days, it is a great time for reflection on the storylines and drama that has made London so memorable.
Nzherald.co.nz breaks down the top five heroes and villains from the Games.
HEROES
Usain Bolt
Usain Bolt secured his place in sports history and backed up his billing as a "living legend" by winning the Olympic 100 and 200 metres and becoming the first athlete to repeat as double Olympic sprint champion.
The 6'5 inch Jamaican was the undisputed star of the Games on the track and off it - where his pre-race gags, jaw dropping talent and post-race celebrations transfixed a global audience of billions.
The typically charismatic Bolt made the claim after his 200m final that he is the greatest athlete who has ever lived, and you get the feeling that few who witnessed his feats inside the Olympic Stadium would argue with him.
Sarah Attar
Sarah Attar finished last and more than a half-minute slower than her nearest competitor in the women's 800 metres. Yet thousands rose to give her a standing ovation as she crossed the finish line.
Attar was the first woman from Saudi Arabia to compete in track and field at the Olympics, and the principle was more important than the performance.
Covered in clothing from head to toe, except for her smiling face poking out from her hood, Attar made her debut five days after a Saudi judo athlete became the ultraconservative country's first female competitor at any Olympics.
In Saudi Arabia, women are monitored by the kingdom's religious police, who enforce a rigid interpretation of Islamic Shariah law in public places.
But Attar was determined to inspire women despite raising the scorn of the kingdom's Islamic clerics
"For women in Saudi Arabia, I think this can really spark something to get more involved in sports, to become more athletic," she said. "Maybe in the next Olympics, we can have a very strong team to come."
Ye Shiwen
No one had a breakout London Games like Ye Shiwen.
The 16-year old Chinese swimming sensation won two golds, set a world record in the 400 metres individual medley and shaved five seconds off her personal best.
But immediately after her wins the Chinese whispers spread like the Black Plague around the Olympic Aquatic centre.
Her 'impossible' time and China's tainted past with drug cheats were hot topics among the media and led many to convict her guilty-of cheating without trial.
What many did not know however is that Shiwen had dedicated herself to the pool for over half her life.
Ye said the training regime that had taken her to this point consisted of two and a half hours in the pool in the morning, and the same endeavour in the afternoon - for nine years.
That is heroic determination to succeed and she will be remembered as the brightest young star of the London Games.
Relay runner with broken leg
American runner Manteo Mitchell won the London bravery award by running the last 200 metres of the opening lap of the Olympic 4x400-metre relay preliminary race with a broken leg.
Mitchell told The Associated Press he had about half a lap to go when he felt a popping in his left leg.
He finished the lap in 46.1 seconds and helped the Americans to a tie for first with the Bahamas in 2 minutes, 58.87 seconds. A few hours later, doctors told him he had a broken left fibula.
Mitchell says "I figured it's what almost any person would've done in that situation."
Michael Phelps
Michael Phelps retired from the Olympic Games the only way imaginable - winning an unbelievable 18th gold medal.
Phelps retires with twice as many golds as any other Olympian, and his total of 22 medals is easily the best mark, too. He can be quite proud of his final Olympics as well, even though there were times he had trouble staying motivated after winning a record eight gold medals at the Beijing Games four years ago.
Phelps may well be remembered as the greatest Olympian of all time and has well and truly conquered the sport of swimming - and the Olympics - before his 30th birthday.
That makes him a hero to just about every sports fan in the world.
VILLAINS
Gijs van Hoecke
The Belgian Olympic Committee told cyclist Gijs van Hoecke he had to leave the Olympics after photos appeared of him looking drunk and unable to walk while leaving a London nightclub.
The committee said in a statement that it made its decision after consulting with the team leader of the Belgian cycling squad.
Several British and Belgian newspapers published photos showing the 20-year-old Van Hoecke, his eyes closed and his trousers and shirt wet, being helped into a vehicle by teammates.
Van Hoecke told Belgium's VRT radio and television network that he regretted what happened, but he was just "letting off some steam" after two years of hard work.
Still, he said "it would have been better if I had not done that here ... in London
Badminton losers
When four badminton teams were kicked out of the London Games for not trying it was the ultimate Olympic humiliation.
The eight doubles players from China, South Korea and Indonesia would have spent four years practicing, preparing and dreaming about their shot at Olympic gold, only to see it snatched away in the most shameful fashion.
All four teams were found guilty of trying to manipulate (lose) matches in their round-robin format to earn an easier match-up in the knockout round.
Their thinly disguised plan didn't fool anyone, and the crowds quickly voiced their displeasure as events unfolded - which included world class players routinely making the most basic errors.
The Badminton World Federation quickly stepped in and disqualified the athletes, who faced an un-enviable task of returning home to their families, supporters and sport with their tails firmly between their legs.
Drug cheats
Unfortunately the Olympics wouldn't be the Olympics without at least one drug scandal.
So far in London there have been four. Russian track cyclist Victoria Baranova, Colombian 400 metre runner Diego Palomeque, Uzbekistan gymnast Luiza Galiulina and Albanian weightlifter Hysen Pulakuwere have all been thrown out of the Games for failing pre-competition drug tests.
The international Olympic committee plans on taking 5,000 urine and blood samples over the course of the Games.
But controversial convicted owner of the now defunct BALCO laboratory Victor Conte believes the tests are irrelevant and claims over 60 percent of athletes at the Games are on drugs.
Aiden Burley
Most of the British population was overcome with patriotism and awe as the Olympic opening ceremony unfolded in London. But not everyone.
English Conservative MP Aidan Burley went on a tweeting rampage, railing against opening ceremony creator Danny Boyle's work on Twitter.
Burley tweeted twice within a few minutes as the Olympic athletes started to enter the stadium after Boyle's staging.
In his first tweet Burley wrote: "The most leftie opening ceremony I have ever seen - more than Beijing, the capital of a communist state! Welfare tribute next?"
A minute later Burley tweeted: "Thank God the athletes have arrived! Now we can move on from leftie multicultural crap. Bring back red arrows, Shakespeare and the Stones!"
Footballer Stan Collymore tweeted: "I'll happily stand against you at the next election. You have no clue about our town or its people. Game on."
A Labour source said: "I think Mr Burley has made an idiot of himself enough without us commenting."
Later that night Burley tried to row back on his message. He tweeted: "Seems my tweet has been misunderstood. I was talking about the way it was handled in the show, not multiculturalism itself."
Regardless of it's true meaning Burley quickly made himself the London Games' first villain in many people's eyes.
Nic Batum
Despite getting knocked out of the Olympic men's basketball tournament, French player Nic Batum thought he would have the last laugh with a punch to Juan Carlos Navarro's nether-regions.
This sort of behaviour is never ok.
- HERALD ONLINE