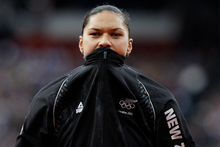 Raylene Bates should not be blacklisted for her mistake, says Craig Bates, the husband of the Dunedin woman under fire for her role in the fiasco that almost cost Valerie Adams a place in the Olympic shot put final.
Bates has been named as the person at fault for the clerical error that led to Adams' name being left off the start list for the event.
Craig Bates said his wife did not want a drawn-out inquiry into who was responsible. She quickly admitted her mistake and took responsibility for the error. He had a long talk to his wife in the early hours of this morning.
"Raylene's made an honest mistake and she admits to it,'' Craig Bates told the Otago Daily Times. "She was terribly distraught about it all.''
Raylene Bates has been a coach and sports administrator for over 20 years and is noted for her attention to detail.
"Raylene's impeccable with all her administration,'' her husband said.
"She's made an honest mistake. She admits to it.
"Raylene's incredibly passionate about the sport. She has done this work voluntarily for years.''
Raylene Bates, a life member of Athletics Otago, is section manager of the athletics team at the London Olympics. She filled the same role in Beijing in 2008 and also at the Delhi Commonwealth Games two years ago.
She is a successful coach of throwing events and will fill this role at the Paralympics, starting in London when the Olympics finish.
Craig Bates said his wife was well liked by the athletes, who made a special request to the New Zealand Olympic Committee to have her appointed to the position for London.
He will travel to London to be with his wife during the Paralympics and will help with the administration.
By Alistair McMurran