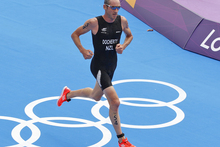 Triathlete Bevan Docherty has competed at his final Olympic Games.
The 35-year-old finished 12th racing in and around Hyde Park overnight but leaves a legacy as one of New Zealand sport's most ferocious fighters. He finished 2m 10s behind British winner Alistair Brownlee.
Docherty's silver medal behind Hamish Carter in Athens and bronze four years later in Beijing marked him as a racer extraordinaire; someone who future generations will look to for inspiration. When he had his game face on Docherty could never be written off. He will be the reason a number of New Zealanders put on their slippers, brought the duvet into the lounge and accepted they might have to sneak a quick bobos at work today. Even last night there was a slim chance he could complete his Olympic medal set.
As it happened London was a step too far, but as New Zealand's best finisher, who was in contention up until the bike/run transition, Docherty showed his characteristic mettle.
"After 200-300m of the run I knew my chances of getting a medal were over but I wanted to guts it out and give everything I had. Under the circumstances I left everything out there.
"This is definitely my last Olympic Games, it would've been great to complete the [medal] set but, in the end, I should've done it in Athens. I'm proud of what I've achieved but the great thing about our sport is that it offers plenty of other opportunities.
"I'm now more suited to longer course racing given my age and where I'm at in my life. I'll race in America and try to win Kona [the Ironman world championships in Hawaii].
"I don't want to get a day job."
Docherty says racing at the Olympic distance over the last few years has taken its toll.
"I haven't enjoyed this type of racing as much. I'm in the sport to win and the Brownlee brothers and [London silver medallist Javier] Gomez have dominated. There's a huge difference between being fit and peaking, I hoped my running form would come together. I crossed my fingers on the last kilometre of the bike that I might have that spring. I ran well, gutsed it out, but there's a difference between being strong and being on your toes.
"I'm happy eight long years of highs and lows are over."
Docherty would like to see more hills introduced to courses to further test athletes' endurance.
"On a flat course like that wasn't made for me with 20 guys so close on the swim and bike. As soon as they announced the course I knew it was going to be tough. My ideal course is something like Athens with a stinking difficult climb in it. I'm a diesel engine these days and this was designed for Formula One-type racers.
"Don't get me wrong, this course showcased our sport well. There were awesome crowds and it was super fast but they need more demanding courses."
London is not Docherty's last Olympic distance race. He will contest October's world championship series final in Auckland. Expect it to extend beyond sea level.
"I had some input into that course and put as many hills in as possible. It's still going to be hard to crack the top three with guys like the Brownlees dominating but hopefully they'll get on the gas over the next three months and I might have a chance," he laughs.
By Andrew Alderson

Email

Andrew