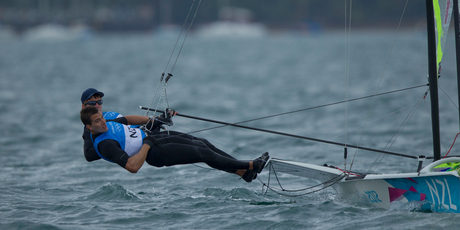 Meticulous planning and youthful exuberance have helped Peter Burling and Blair Tuke break a 20-year set of Olympic shackles for Yachting New Zealand.
The pair are guaranteed a silver medal provided they start tonight's medal race off Weymouth in the 49er class. It is New Zealand's first medal in the discipline and the country's first yachting gong in anything other than boardsailing since Barcelona in 1992.
Burling, 21, and Tuke, 23, are second on 76 points after 15 races. Australia leads New Zealand by 28 points, meaning the world champion crew of Nathan Outterridge and Iain Jensen cannot be beaten. The Danish crew are 32 points behind the New Zealanders on 108. The Kiwis cannot be pushed to third because the maximum points difference between crews in the 10-boat, double point medal race is 18 (2 to 20).
YNZ's decision to take Burling to the Beijing Games as a 17-year-old with Carl Evans in the 470 class (finishing 11th) has proven a worthwhile investment. Tuke,23, has been an able replacement for Evans in the transition to the 49er class.
"We had a good day on the water," Burling said of races 14 and 15 where they produced two sixths.
"Unfortunately we couldn't gain on Australia but it's been great to have so many Kiwi supporters cheering. Once we reach the podium the achievement will start meaning a little more."
YNZ high performance manager Jez Fanstone has highlighted the pair's diligence.
"It is testament to all the hard work they have done over three and a half years in every aspect of the sport."
The pair's success reflects comments that Fanstone, who is also their coach, made before the regatta.
"The detail they put into the programme and the way they operate is world-class. They have a good mix of skills. Pete is an engineer and is detailed on the equipment. Blair is a bit more outgoing so drives communication."
Burling and Tuke may now look to the professional ranks, at least between now and the next Games. "There's lots of other cool things going on in the sailing world with the America's Cup and Volvo races," Burling says. "I'm always looking for new challenges so I assume I'll be looking into that."
By Andrew Alderson

Email

Andrew