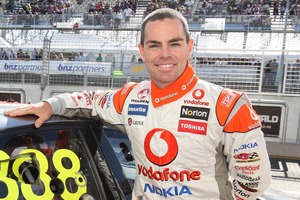 The sight of Craig Lowndes' tail lights became common for rivals at Queensland Raceway as the Holden veteran swept the Ipswich V8 Supercars round for the second straight year.
But that was not why Ford rival Mark Winterbottom was seeing red.
Lowndes finished almost two seconds ahead of Winterbottom to win Sunday's 200km round finale, clinching his 11th win - and fifth straight - at his home track at Ipswich.
Winterbottom marvelled at Lowndes' dominance before taking aim at officials after his pursuit of the Holden veteran was held up by backmarkers late in the 65-lap race.
Winterbottom was fuming after officials failed to wave a blue flag that prompts backmarkers to make way for an approaching faster car.
Only the chivalry of Garth Tander - who was duelling with Todd Kelly - allowed Winterbottom to eventually pass.
"I don't think it would have changed the outcome ... but it's a concern," said Winterbottom.
"I have raised it at drivers' briefings before and they [officials] do shrug it off a bit."
At the series' halfway mark, the points table is led by Lowndes' Vodafone teammate Jamie Whincup (2052 points), 82 ahead of Winterbottom and 176 more than his FPR teammate, Will Davison, and 256 ahead of Lowndes.
All 17 races in 2012 have been won by either TeamVodafone or FPR.
"The competition is as intense as we've seen between two teams for a long time in the championship - one slip and the other one wins," Vodafone boss Roland Dane said.
"[And] I don't think he [Winterbottom] got the rub of the green.
"In a fight like that anything that advantages or disadvantages one or the other is blatantly unfair."
Lowndes took 42 points off Whincup's series lead at the weekend but believed he would not know whether he was in sight of championship No4 until the endurance rounds were completed by October.
"Every weekend is very important for all four of us now. [But] you can lose 300 points very quickly at any of those three endurance rounds," Lowndes said.
"As long as I am within that 300-point gap I am going to go for it."
The TeamVodafone driver rocketed to another two wins at the Coates Hire Ipswich 300 to make it five victories from five starts at the Queensland event.
While Lowndes dominated, Winterbottom and Davison still exorcised the demons of last year's nightmare Ipswich round when they were lapped.
Davison finished sixth on Saturday and fourth after claiming pole on Sunday.
Winterbottom was on Sunday buoyed by finishing a whopping 14 seconds ahead of Whincup, who placed third in both weekend races.
The next round will be held at Winterbottom's home track - Sydney's Eastern Creek - from August 25-26.
-AAP