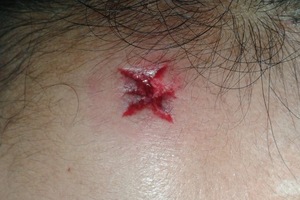 Crouching behind a golf bag was not enough for Wellington golfer Julianne Alvarez to escape the power of a stray ball flying through the air.
The Wellington No 1 teed off on the fourth hole of her round yesterday in the Kapi Tareha tournament at the Napier Golf Club when she heard "watch out, there's a ball coming".
So the 16-year-old covered the top of her head and ducked behind her bag.
"I closed my eyes and then all of a sudden I felt this really, really, really hard impact on my forehead.
"[I thought] 'this can't be happening, I didn't just get hit in the head', and then I touched my forehead and felt all this blood coming out, it was really scary," the New Zealand rep said.
Her mother wrapped the gashed head with a towel.
Determined to finish the tournament, Alvarez returned to the fourteenth hole, having started at hole 10, to take her next shot.
"But I was really dizzy, so I just went to the hospital."
In hospital she was kept under observation for a couple of hours, before being given the all-clear to return to her Lower Hutt home.
It meant she was ruled out of the tournament - which she was leading before the stray ball found her.
"I have never had anything extreme happen to me before. This is my first time anything really weird has happened to me.
"I've heard of stories, I've never seen it happen, but I've heard of stories of people getting hit in the head."
Since the accident she has been monitoring her injury, and said so far there haven't been any issues.
She hoped there would be no problems by the time her next tournament came around.
With Alvarez out of the tournament, Manawatu's Emma Clayton and Napier's Kate Chadwick shared the title.
- APNZ