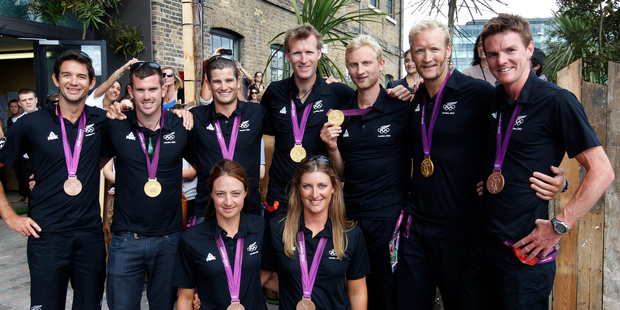 A massive queue formed in King's Cross as hundreds of supporters tried to cram in to the New Zealand Olympic team's public meeting spot to toast the successful rowing contingent.
"It's a bit of a beast," Kiwi House organisers confirmed as the afternoon sun beat down on a queue that snaked across Granary Square. They estimated it took visitors 90 minutes to get in when the queue was at its peak.
Though the L&P had run out by mid-afternoon, the beer and coffee continued to flow.
Carey Foster and Jain Sutton said they had come to enjoy the sun and "hang out" with a few Kiwis.
It was "amazing" to see the medals as they glinted in the sunlight, said Ms Sutton.
"They did the Haka to welcome the winners. It was pretty unique."
Olympic men's single sculls champion Mahe Drysdale literally stood out in the pack, said Mr Foster.
"He's very tall."
Mr Foster said he thought the rowers' success proved New Zealand was maturing as a sporting nation.
"I've been looking at the medals table. I think it shows we're fairly committed to doing the best we can."