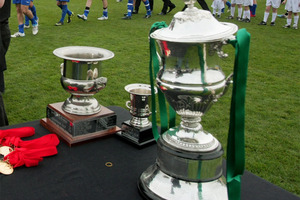 Central United have the chance to join Eastern Suburbs as five-time winners when they square off against Lower Hutt City in the ASB Chatham Cup final.
In yesterday's semifinal Central romped to a 6-0 away win over Miramar Rangers - down to eight players at the finish - to book their eighth final appearance, against a Lower Hutt side that will be venturing into uncharted territory after also scoring a big away win.
Ahead 1-0 at halftime against Caversham, Lower Hutt scored three unanswered second-half goals to cruise through to the final on August 25 or 26. Goals to Hamish Watson, Pomare Te Anau, Taban Mokaii and Andrew Coad were too much for the Dunedin side, who were attempting to reach their first final after seven unsuccessful semifinal appearances.
There was even more second-half action at David Farrington Park, where Central too led 1-0 at the break before storming home.
Emiliano Tade continued his unbelievable cup-scoring run with a hat-trick, including two from the penalty spot.
His first spot kick, just seven minutes into the game, was the only first-half scoring. Losing Patrick Fleming for a second bookable offence did not help the home team's cause.
Striker Paul Urlovic doubled Central's lead, which was further extended by Adam Dickinson with eight minutes to play. That goal signalled the start of a late scoring scramble for the visitors.
A minute later Miramar goalkeeper Sacha Nathu brought down Tade and was sent off. The Argentine striker booted home from the spot for 4-0. A minute into stoppage time he added his third.
A day the home side would rather forget got worse as Tom Doyle joined Fleming and Nathu in the sheds and Daniel Koprivcic converted a third penalty.
A decision on where the final will be played has yet to be made as the North Harbour rugby team have a home ITM Cup game against Waikato on the afternoon of August 26. North Harbour Stadium was pencilled in as the likely venue if an Auckland team made the final.