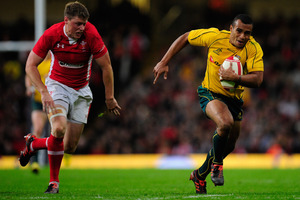 However much the All Blacks claim to be envious of the Wallabies for having such a long preparation period ahead of their opening Bledisloe clash, they don't really mean it. Or if they do, they shouldn't.
The Wallabies can train the house down, run through a million moves and play out any scenario they like and they won't be favourites. There are two reasons for that: the first is that training, regardless of what coaches say, is never an adequate substitute for playing.
The second is that the Wallabies didn't look dangerous in the June tests and no one emerged in Super Rugby presenting themselves as a saviour to fix their chronically weak scrum. Nothing has changed - they needed to find some bruising tight forwards, especially at numbers one and three. It didn't happen. Wales beat them up in three tests and the All Blacks will fancy they can inflict more damage across two.
Liam Gill and Michael Hooper were the most promising youngsters to stake a claim but they are both opensides - the one thing Australia didn't need given the presence of the excellent David Pocock.
The frustration for coach Robbie Deans must be considerable. While his tight-five-lite have been working away, probably to no great effect, on scrum machines and training drills these past few weeks, the likes of Ben Tameifuna, Owen and Ben Franks, Wyatt Crockett, Sam Whitelock, Luke Romano and Brodie Retallick have been taking lumps out of each other, the Bulls and Sharks. They have been playing for real and proving they are tough, uncompromising, brutal young men with enormous futures.
In preparing for what is effectively a mini-test series, the players on either side of the Tasman know what they would rather be doing - international coaches love to train; international players love to play. That's because coaches can be driven by a paranoid belief that players are on the verge of collapse and that fatigue is ready to rob them of a top-end performance. International coaches generally hold unrealistic expectations about the time required to prepare a team for a test. An edgy and distrusting bunch, coaches want to spend hours ticking things off an extended list in the build-up. They see their opponents enjoy more preparation time than them and they jump to install their team as underdogs.
"I think it's a big advantage to them [Australia]," All Black coach Steve Hansen said about the Australian teams' early exit from Super Rugby. The Reds, knocked out in the preliminary play-off round on July 22, were the only representative from across the Tasman, giving the Wallabies almost a month to prepare for the All Blacks in Sydney on August 18.
"The more preparation time you have, the better chance you have of getting your game organised and your structures built in and the clarity," said Hansen.
It would be a surprise if any Wallabies agreed. Being in camp for so long only reminds them that they bombed in Super Rugby - the Australians mostly just made up the numbers. The overall weakness of their conference was exposed when the Blues swept aside table-leading Brumbies on the last day and the Sharks had the Reds sliced and diced after 45 minutes in the play-offs.
There is also a significant intangible attached to playing - it builds confidence, especially when teams win. When the All Blacks kept 22 of their best players out of the first half of the 2007 Super Rugby competition, it had the dual effect of preventing their own stars from finding their rhythm and form while also enabling the Springboks to build confidence and belief when both the Sharks and Bulls made the final.
The Wallabies will have to build their confidence artificially. Deans will have to hope he can train some key men into better form. And he'll have to hope hours hitting tackle bags and running through drills is somehow going to restore the frail mental state of his squad.
None of Deans' key men enjoyed a consistently strong Super Rugby campaign. Scott Higginbotham, a man rarely rated by Deans, was a lone figure for weeks on end - always delivering his combative style at No8. But what happened to Will Genia? Digby Ioane, suspended for a while and then ... not much. Pocock was buried trying to carry the truly awful Force and Adam Ashley-Cooper never looked comfortable as part of a struggling Waratahs side.
There wasn't a single tight forward who impressed and it won't matter how much scrummaging the Wallabies have been doing behind closed doors - once they have to do it for real, they'll fold as always.