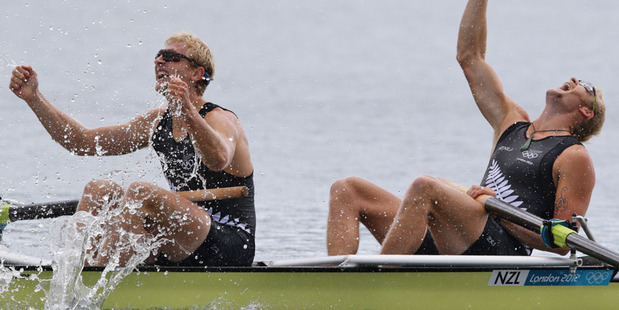 Hamish Bond and Eric Murray react after earning New Zealand its second Olympic gold medal. Source /Brett Phibbs NZ Herald
Double gold, double delight as New Zealand's rowers turned Eton Dorney into their personal playground last night.
Coxless pair Eric Murray and Hamish Bond smashed through their final frontier, winning the only prize to have eluded them in the last four years as they claimed an Olympic crown.
Then 40 minutes later, single sculler Mahe Drysdale got the gold that illness so cruelly denied him at Beijing four years ago.
Drysdale's gold is New Zealand's 20th Olympic rowing medal, ninth gold altogether and third at this regatta, after Nathan Cohen and Joseph Sullivan's victory in the double scull 24 hours earlier.
While Murray and Bond streeted the field maintaining their 100 percent winning record over the four-year Olympic cycle, Drysdale had to work desperately hard to hold off his fiercest rival, Czech Republic sculler Ondrej Synek before raising his arm, slapping the water and clutching his head.
Emotion washed over the 33-year-old and he collapsed on the pontoon. It took four minutes for him to get to his feet. The sporting Synek embraced him while he was prone.
Those twin triumphs - drawing a reminder with the Murray Halberg-Peter Snell golden hour on the Olympic track at Rome 52 years ago - take New Zealand to five medals at these Games.
The golds followed bronzes to the eventing team and women's pair Juliette Haigh, who is Drysdale's partner, and Rebecca Scown, and the double sculling gold.
And there was the possibility of a team pursuit medal at the velodrome early this morning. (sat)
Having taken bronze, when struck by illness in the days leading up to the final, five-times world champion Drysdale will feel vindicated.
In front of his friends and family, he had his nose fractionally in front of Synek at halfway, put in a strong third quarter and hung on to win in 6:57.82 seconds, 1.55s ahead of the Czech with Britain's Alan Campbell third.
"I can't really believe it,'' Drysdale said.
"I've been working for this for 12 years.
"I had absolutely nothing in that last bit and I could see Synek coming at me. It was just a matter of trying to hold on. I'm so happy I did.''
In front of the packed stands and their ecstatic supporters, Bond and Murray crossed the line in 6:16.65s. Murray raised his right fist; Bond slapped Dorney Lake in delight before lying back into the lap of his partner in greatness.
Five seconds behind came the French crew of Germain Chardin and Dorian Mortelette, closely followed by George Nash and William Satch of Great Britain.
"Before the semis, I said we were at the Hillary Step, with the summit in sight,'' Bond said.
"But now we're there and no one can take that away from us.
"Whatever happens in the future we'll know that over these four years we've achieved anything anyone could have set out to do in the pair.''
On the start line Bond looked relaxed and focused, Murray slightly more edgy and pumped up, as befits their personalities. When they left the boat they looked like they had been for a training row.
At the halfway mark they were 1.5s ahead and they stopped making a contest of it in the third quarter, crossing 5.2s ahead at the 1500m.
Their record of success over the past four years is astonishing and possibly unprecedented. Not once has a boat crossed a finishing line in front of theirs. Even the All Blacks lose from time to time.
Potential rivalries have been invented but the simple truth is that they are peerless.
Coached by Richard Tonks, the now legendary mentor has a very simple philosophy: keep doing the stuff that makes the boat go fast, strip away all the extraneous stuff.
There would have been no big pre-race pep talk, just a simple message to go out and do what they've always done.
Which they did. With aplomb.
They might not share a lot in common off the water, but Bond and Murray now have an unbreakable link as they enter New Zealand sporting folklore.
We already knew they were a bit special, somewhere beyond brilliant. The gold medals they now have in their possession are just the baubles that confirm it.
Double scullers Fi Paterson and Anna Reymer, third in the world championships last year, were left off the pace early in their A final and finished fifth in 7:09.82 while the men's quad of Robbie Manson, Matthew Trott, Michael Arms and John Storey won the B final.