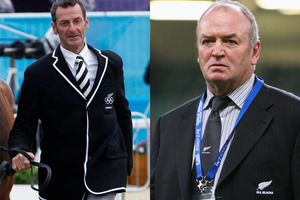 Welsh sports journalist Stephen Jones has taken aim on twitter at former All Black coach Graham Henry and his Rugby World Cup match fixing claims.
Commenting on NZ equestrian rider Mark Todd's final ride overnight (NZT) in the individual competition - where he started third and finished a disappointing 12th - Jones joked that Henry could offer an explanation.
"NZ rider Mark Todd riding Course Wrecker ends way out of medals in 3-Day event. Over 2 Graham Henry for a lame excuse. Wayne Barnes fault?"
The decorated Sunday Times journalist was referencing claims made in Henry's new book 'Final word' that New Zealand's 2007 Rugby World Cup quarterfinal against France was marred by referee Wayne Barnes missing an unexplainable number of penalties and errors.
Jones is the most recent journalist to drum up public interest on twitter after British reporter Guy Adams was sent to the twitter sidelines after tweeting the email address of NBC's Olympic Games chief, Gary Zenkel.
Americans were made to wait hours to see the opening ceremony, so that the footage was fresh for primetime viewing. Twitter claims Adams posted private information; the journalist has said he's happy to abide by Twitter's rules, but since Zenkel's address can be found online or worked out by looking at any NBC email address and working where the names go, it is not private.
This has fed claims that Adams is being censured because of his criticism of NBC, which happens to be an official partner of Twitter for the Olympics.
- HERALD ONLINE