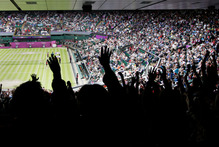 "Cream with your strawberries, sir?"
Go on, twist my arm. As this is the London Olympics, and it's a day at the tennis, it can only be Wimbledon - at least Wimbledon wearing its Games face.
There were about nine of the red fruit to a packet. A crayfish and rocket sandwich will set you back £5.70 ($11), the "Great British Banger" £4.20 and something called a Hampshire Hog Hoagie £6.00. It looked better than it sounded.
There is something terribly nice about tennis at this location.
Having the Games tournament at the sport's most famous chunk of real estate in southwest London means a change of colours.
Wimbledon's traditional green and purple has undergone a change, as Olympic pink has taken root. However in some respects it is business as usual.
The crowds yesterday swarmed around the grounds, and were noisy. That may partly have been to do with the fact the two leading English women, Laura Robson and Heather Watson, were in action simultaneously, both winning, and the roars were loud and appreciative.
"I love loud," Watson laughed.
When a baby started crying as he was about to serve yesterday, American Andy Roddick stopped and called out to the battling parent: "Don't worry, it will get better."
Up on Henman Hill, named after Tim Henman, spectators reclined in the sun on the patch of grass and watched the world's greatest player, Roger Federer, on the giant screen as he eased a French journeyman out of the door.
The "Hill" is actually Aorangi Park. It was the home of the London New Zealand Rugby Club from 1966 until 1981.
There's another New Zealand link. Stroll beneath the centre court and you'll spot, on the list of past champions, AF (Tony) Wilding, 1910-11-12-13 - born in Christchurch, killed in action in France in 1915 - squeezed among the greatest of racquet wielders.
Everyone's polite. There's no argy bargy at Wimbledon, even when it's not quite Wimbledon, and when the shuffle through the security screening is long and not particularly efficient.
Watching Federer is something of a pastime, too, as a large crowd, nine deep, staring up as he performed a series of interviews, would attest. When he turned and gave them a regal wave the roar of appreciation was substantial.
They love the Swiss legend here, as much as he loves the grass of Wimbledon, as he should with seven of his record 17 grand slam singles titles won here.
It may be noisier than usual but it remains a touch genteel, if that word could be applied to a modern sports setting. Things are done just so.
Yes, it is strong on its traditions and in a world where so much tends to rocket along these days, that's no bad thing.
By David Leggat

Email

David