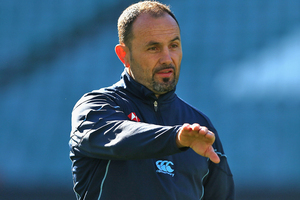 Michael Foley is expected to swap one embattled Super Rugby franchise for another with the Western Force tipped to name him as their new coach after he resigned from the NSW Waratahs post on Tuesday.
Foley's exit continued the drama surrounding NSW over the past week during which long-serving Waratahs manager Chris Webb and chairman of the Waratahs Rugby board Edwin Zemancheff departed.
No chairman has been appointed to replace Zemancheff, with NSW Rugby Union officials refusing to nominate a time frame for the appointment of a new coach.
"We firmly believe that this position is a highly sought-after role and will begin the appointment process with immediate effort," Waratahs Rugby board member and former NSW and Wallabies prop Al Baxter said in a statement from the NSW Rugby Union.
Among those who might consider throwing their hat into the ring are former Randwick, Leinster and Stade Francais coach Michael Cheika, who has reportedly rejected an offer from the Force.
It is believed the Force may make an announcement on Wednesday about their coaching position.
Potentially fuelling more speculation about a move west, Foley didn't offer a reason for his resignation in the statement issued on Tuesday.
"I'd like to thank the organisation and team for their support throughout my time here, particularly over the past season," said Foley, who took over as head coach this year after serving as an assistant to Chris Hickey for the previous three seasons.
"While it's been a challenging season for everyone, being involved over the last four years has been extremely rewarding, particularly being part of a team that was able to play in two finals series.
"I believe that the squad and organisation has the potential to turn it around and I wish everyone the best for next season."
Foley's decision attracted criticism from former Waratahs skipper and Wallabies back Matthew Burke.
"It's a bit of a selfish one I reckon from Foley, I thought he would have lived out the contract and coached in 2013," Burke said on radio station Triple M's Rush Hour.
"As it turned out it doesn't matter if you lose or win games these days, you pick up a gig anywhere."
At least one other Super coach evoked the out of the frying pan into the fire expression on Tuesday upon hearing about Foley's mooted switch.
Both NSW and Force have had a season to forget, with poor on-field performances compounded by off-field dramas.
NSW, who had made the finals the previous two seasons, finished 11th with just four wins and lost their last eight games.
Last month, Foley was asked to present a submission to the board about the Waratahs season, despite the fact they still had two games to play at the time.
The Force were the worst performed of the five Australian franchises, winning just three games and finishing just one spot and two points above the last-placed Lions of South Africa.
The Perth-based franchise were pitched into more turmoil after coach Richard Graham was released mid-season after he revealed he would be coaching the Reds in 2013.
Already resigned to the retirement of Wallabies lock Nathan Sharpe, Force suffered another crushing blow last weekend when captain and talismanic flanker David Pocock signed a three-year deal with the Brumbies.
- AAP