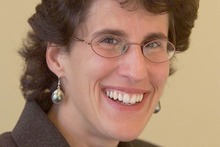 Female managers of sporting organisations feel there is still an "old boys' club" operating at a national level, according to research.
Professor Sarah Leberman, from Massey University, surveyed physical education and sports management graduates and interviewed eight of the 10 female CEOs of national sporting organisations - there are 90 - to consider how females could be better prepared for leadership roles.
The work came off the back of her observations on students entering the job market: "I was seeing good female students being overlooked while being called on to give references for male students who I didn't think were as strong as their female classmates."
Professor Leberman, who is a member of the country's Olympic Committee's Women in Sport Group, said there had been "glacial" improvements in recent years. In 2007, there were just six female CEOs.
Internationally, women's participation in sport was not reflected in sports coaching or management. Most Olympic coaches were men and, like other industries, pay equity lagged.
Research participants had identified that the "old boys' club" was alive and well, Professor Leberman said.
"You're not part of the club. They don't play the golf on a Friday, you might not have necessarily been at the same school, you might not have had those links - you basically have to be even better.
"You have to be really, really good at your job because you're not going to get there because you know who they are," Professor Leberman said.
In a published paper one chief executive said: "Some of it is just disgraceful.
"There is just not an understanding of the importance of having diversity.
"Not just because it is important to reflect society, but because of all the benefits that go with it."
Professor Leberman said women needed to compensate for the fact that sports management was still a male-dominated sector by being better at making connections and presenting themselves in an effective way.
Volleyball New Zealand general manager Pamela Brodie said part of the issue could be attributed to women leaving work to raise families, leaving men to move up ladders. She doubted there was any long-term fix.
She said the "old boys' club" was not limited to sport. But it was "just camaraderie" and stopped short of outright sexism.
"If a woman comes up with a potential good idea, I think in general, if there's a male involved ... then I think it can become quite bullish in that men's opinions should be weighed at a higher level than women's. You tend to deal with that on a daily basis: it's twice as hard for you to get your opinion across or invoke any change."
By Yvonne Tahana

Email

Yvonne