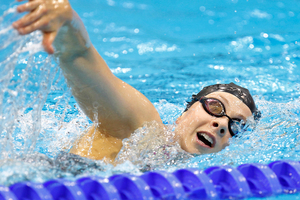 Auckland swimmer Lauren Boyle has a royal medal chance after qualifying fourth fastest for the 400m freestyle at the London Olympics.
Boyle shattered her own national record of 4min 05.83 seconds in coming third in her heat in 4:03.63, behind Frenchwoman Camille Muffat and American Allison Schmidt.
That was good enough to earn the fourth best time - earlier heat winner Coralie Balmy of France just shaded Boyle overall. She'll have a shot a winning New Zealand's first medal of the Games at 7.18am (NZT)
Just .34s covers the qualifying times of that quartet and a cracking final is in store.
"I'm really happy with that swim. Going your best time at the Olympics is something pretty special," Boyle said.
The fact she wasn't ranked in the top eight going into the event reinforced to Boyle that "at the Olympics you never really know what's going to happen, so to be in the final is really exciting for me."
The one other bit of decent news for the New Zealand contingent out of the morning session was backstroker Gareth Kean qualifying for the 100m semifinals later in the day.
Kean was off his best and qualified 14th fastest in 54.26, which had him sixth in his heat.
"I'm pleased I've progressed; not so pleased with the time but I've got something to work on (in the semifinal)," he said.
His performance had motivated him to "show I can go faster than that".
Daniel Bell finished last in his heat of the same event, talking of injury issues with a shoulder which had hampered his lead-in. He recorded 55.53, over a second slower than his best time this year.
Melissa Ingram was fifth in her heat of the 100m backstroke in 1:01.94, outside her best, while Matthew Stanley was left dejected after a disappointing swim in the 200m.
Stanley was seventh in his heat in 1:48.19 and acutely aware that had he produced his personal best time, would have been in tonight's semifinals.
"If I'd got 90 percent of what I've capable of I would have made the semifinals," he said.
"I'm pretty disappointed with myself because I didn't put myself in the race. That's what I'm most upset about."
There was one Olympic record in the morning, Australian Emily Seebohm trimming .54s off Zimbwean Kirsty Coventry's time from Beijing four years ago in clocking 58.23s.