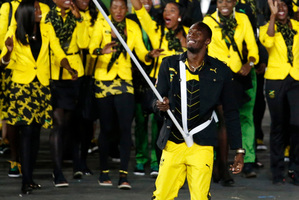 Usain Bolt made one full circuit of the showpiece Olympic Stadium at the opening ceremony as Jamaican flag-bearer - and revealed he may do another unscheduled lap during competition - the 4x400m relay.
Bolt was not exactly quick out of the blocks on his first official engagement at London 2012.
The Jamaica Olympic Association's pre-Games press conference, featuring the world's fastest man, started 45 minutes behind schedule.
Still, when he finally made it on stage, there were a few surprises in store for the speed merchant who stole the show at the Beijing Olympics - and a defiant message from the Lightning Bolt that he was fit and ready to roll after a recent hamstring problem.
Asked by the master of ceremonies, former 110m hurdles world record holder Colin Jackson, whether he would be willing to compete in the 4x400m relay in London - in addition to the 100m, 200m and 4x100m relay - Bolt replied: "It would be about how I felt after the 200m.
If I feel like it - why not? For my country, I would do it if necessary."
It remains to be seen whether Bolt, who repeated his aversion to running the individual 400m, would have much left in the tank to contest a fourth event. After all, when asked what he thought about the 150,000 condoms delivered to the athletes' village, he pointed out: "My schedule is way too busy."
Judging from the evidence of the Jamaican trials last month, Bolt will have enough on his 2012 Olympic plate defending his individual titles against the burgeoning compatriot and training partner he calls "The Beast". Yohan Blake, three years his junior, beat him over 100m and 200m on home ground.
It remains to be seen whether it will be any different when it comes to the blue riband 100m final in London next Sunday. Despite the speculation about his fitness after his withdrawal from the Monaco Diamond League meeting with an unspecified "niggle", Bolt insisted he was back on track.
"I'm ready to go," he said. "I had a problem. My back was a little stiff because of problems with my hamstring. We fixed that. I've been training well for two and a half weeks. I got a tingle - a chill - when I came down here today and went into the athletes' village. That's a good sign."
There are those who may have read signs into the absence of Blake from yesterday's press conference - Bolt had only Asafa Powell, the former 100m world record holder for company. There have been reports in Jamaica that Bolt and Blake have been kept apart in training by their coach, Glen Mills. Bolt, however, maintained: "We always train together. Nothing has changed. We know each other's strengths. It makes no difference. We're cool. We're friends. It's just the same. We won't change anything, no matter what the result is."
The result of the trials double-header was 2-0 in favour of Blake, the 22-year-old who joined the Racers Track Club stable in Kingston shortly after Bolt had stolen the show at the Beijing Olympics in 2008, winning the 100m and 200m in world record times and taking a 4x100m relay gold medal in world record time, too.
Now that the man from Montego Bay has beaten him twice - and claimed his 100m world title following his false-start disqualification in Daegu last summer - Bolt's Olympic crowns are under serious threat.
Asked whether he would consider second place as "failure", Bolt paused. It was not a word that was ever put to him when he was tearing up the world record book in Beijing and again at the World Championships in Berlin a year later. "Failure?" Bolt pondered. "That's a strong word. I'd be disappointed if I didn't win. For me, coming to championships, I'm never going to think about losing.
"I wasn't the best at the trials. It's always a wake-up call to be beaten. But mentally I'm strong. I know what I want. I want to defend my titles here and become a legend. I've said that all along. This could easily be one of fastest 100m finals ever, for sure. These guys have been running fast all season."
Before the fastest man of all time departed, there was something of a jolt when a foreign journalist prefaced a question by saying: "You are gay, so I would like to know ..."
The rest of the query was lost as Powell dissolved into a fit of laughter. Bolt looked askance until Jackson interjected: "I think the word is 'happy', Usain."
- Independent