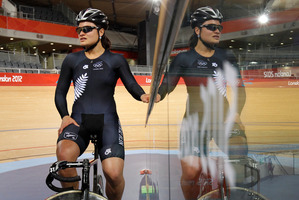 If there's chaos in the skies over Southland over the next couple of weeks, don't blame Natasha Hansen.
The Invercargill-based air traffic controller has arrived in London to prepare for her first Olympics.
The 22-year-old sprinter has come from a long way back at the turn to win a place at the London Olympic Games.
Before last year, BikeNZ effectively didn't have a women's sprint programme, but Hansen teamed with Dunedin's Katie Schofield to try to force their way into the team sprint.
A Schofield wheel-spin at the Melbourne world championships put paid to those dreams, but Hansen, who finished 13th in the sprint, did enough during the season to make it in as an individual for both sprint and keirin.
This represents a massive climb on the learning curve for Hansen.
Nobody is under any illusion she will be challenging the likes of Australia's Commonwealth and Olympic gold medallist Anna Meares or Briton Victoria Pendleton for medals.
But BikeNZ hope this experience will enable her to move forward towards Rio de Janeiro 2016 with some confidence.
Hansen has been training in Europe for the past seven weeks with a burgeoning squad of female sprinters - Schofield, Steph McKenzie and Paige Paterson.