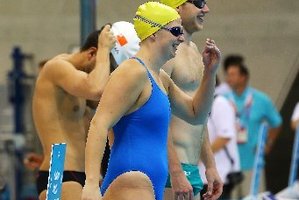 Supporters of Australian swimmer Leisel Jones have taken to Twitter to back the Olympic athlete following the publication of unflattering photos suggesting she's not in the best competitive shape.
Articles saying 26-year-old Jones may be battling a weight problem have appeared just days before the London Games opening ceremony.
Olympic gold medallist Giaan Rooney wrote: "Anyone commenting on Leisel's weight 3 days out from Olympics should be ashamed. Should be celebrating our athletes not pulling them down."
Teammate Melanie Schlanger tweeted, "I'm embarrassed by the Aussie media having a go at Leisel, one of Australia's greatest Olympians. Support athletes don't drag them down."
Jones has said these Games are the icing on the cake, after becoming the first Australian swimmer to qualify for four Olympics.
Her coach Michael Bohl said he was happy with Jones' condition as she neared the end of her swimming career.
"She's been doing nine sessions a week, and two gym sessions a week coming into this, and we were really happy with her from coming off Santa Clara (in California, where she swam faster than at Olympic trials)."
Twitter users rallied to show their support.
SSW-au tweeted, "Cold hard facts: Leisel Jones does not look like she's in peak condition for an Olympics. But coach says she's ready to go so we'll soon see."
Jessy-louu tweeted, "Back off Leisel Jones. It's outrageous. Does she not have enough pressure On her already? So much for Aussie spirit", while BecTeh wrote, "(It's) bad enough she has to wear a swimsuit for the world to see, but then to have pictures of her in it dissected?"
Jones rejected suggestions she was stressed.
"I'm so relaxed, and I'm just really enjoying everything about these Games and the lead-up," she said.
- AAP