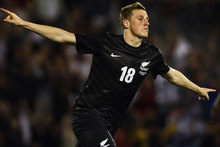 For most New Zealand athletes at the Olympics, competing in London equates to being a long way from home. Not for soccer player Chris Wood.
New Zealand open their Olympic campaign against Belarus in Coventry tomorrow morning and for Wood it is almost like a home game.
The striker is contracted to West Bromwich Albion, although plays most of his football loaned out to rival clubs, which is just a 50km drive down the M6 to the City of Coventry of Stadium.
It is familiar territory for an individual who is becoming a familiar player. It's incredible to think Wood is still just 20 years old.
Already he has played 25 full internationals for the All Whites, including three appearances at the 2010 World Cup, played in the English Premier League and impressed at the 2007 Under-17 World Cup which proved the springboard to his professional career.
"I have been around a while" Wood agreed, "and feel like an older member of the squad, but I am still one of the youngest. I'm the fourth youngest in this team."
The Olympic soccer competition is an under-23 tournament, although three over-age players are allowed in each squad. Ryan Nelsen will skipper the side alongside Michael McGlinchey and Shane Smeltz.
It is up front where New Zealand's strength lies, with the front four of Wood, Smeltz, Kosta Barbarouses and Marco Rojas the same as the one that played the majority of games at the recent Oceania Nations Cup in the Solomon Islands.
The level of experience in the Oly Whites is one of the main features of the squad and they could well boast the most internationals at these Olympics, considering 13 of the 18-man squad have played for the All Whites.
It is driving confidence that they will progress to the quarter-finals.
The opener against Belarus is crucial if they are to achieve that. With games against Egypt and Brazil to come, it would leave them with a difficult task of finishing in the top two of their group if they were to lose.
Wood did not know much about Belarus, other than they beat the Czech Republic in a playoff to qualify, but has seen them up close as they are staying in the same hotel.
New Zealand meet Egypt in Manchester and Brazil in Newcastle.
"As footballers, we are used to being away from things and moving around," Wood said.
Wood is more used to it than most. Since signing with West Brom in 2009, he has had loan moves to Barnsley, Brighton, Birmingham and Bristol City.
He is hopeful of impressing new manager Steve Clarke enough to push for a first-team spot but would be open to another loan move if he's too far down the pecking order.
"The new gaffer wants to have a look at me and I will go back after the Olympics to show him what I'm about," Wood said. APNZ
- APNZ
By Michael Brown

Email

Michael