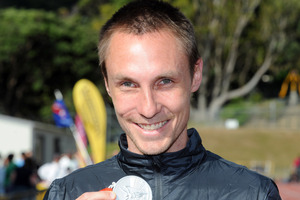 Nick Willis has one, shiny target in mind now: Olympic gold. The Beijing silver medallist smashed his New Zealand 1500m record yesterday - then celebrated by catching a high-speed ride in a police car to dinner with Prince Albert of Monaco.
"The traffic was horrific, so I saw a couple of police officers and thought, I'll see if I can drop the prince's name and get a ride," Willis told the Herald on Sunday. "They radioed ahead and next thing, my wife Sierra was sitting on my lap in the back of a police car on our way to the palace."
Sierra, father Richard and long-time American coach Ronnie Warhurst had earlier looked on as Willis clocked 3m 30.35s for third at the Diamond League meeting in the Mediterranean principality, his final outing before the London Olympics.
Willis took 1.44s off the mark he set at the same meeting last year. It's also an Oceania record, beating Australian Ryan Gregson's 3m 31.06s at this meet two years ago.
The race was won by Beijing Olympic champion Asbel Kiprop (Kenya) in 3m 28.88s - the world's fastest time this year - followed by fellow Kenyan Nixon Chepseba in 3m 29.77s.
Willis' result comes two weeks before the Olympic 1500m heats.
Later at dinner, The Willises were seated at the Prince's table, and talked with him about running - Prince Albert also ran the 1500m at university in the US - as well as their shared loves of deep sea fishing and the All Blacks' Rugby World Cup victory over France.
Now Nick, his wife and family are heading off to Italy for a few days' break - before knuckling down for the run home to the Olympics.
"I'm going in with the fifth fastest time in the world, and I'm by no means the favourite. But I would be foolish not to give it a very serious go.
"And many pundits would back me based on my ability to raise my game in a championship setting when there's no pacemakers."
"My target is the gold medal."
Soon after smashing his personal best, the ecstatic 29-year-old Tweeted: "There is great joy to be had when you persevere through seemingly endless injuries, only to come out stronger on the other side.
"Nothing beats running a big PB! No amount of money or fame can top knowing you've taken your body beyond where it has been before."
Javelin thrower Stuart Farquhar was the only other New Zealander in action at Monaco, finishing in sixth place with a best throw of 75.84m.