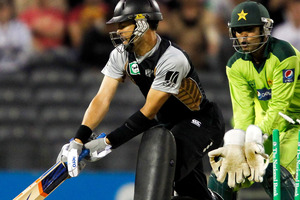 The Northern Knights will be missing one of their most senior players next season after veteran wicketkeeper-batsman Peter McGlashan announced his retirement from all cricket today.
McGlashan was this week named in the Black Caps' 30-man preliminary squad for the ICC World Twenty20 tournament in September, and represented New Zealand at one-day and Twenty20 International level in 15 matches between 2006 and 2010.
Subsequently, however, McGlashan has been offered the opportunity to take up a meaningful career beyond cricket and has informed New Zealand Cricket that he is no longer available for the tournament due to his immediate retirement.
McGlashan leaves professional cricket with the best wishes of the Northern Districts Cricket Association and New Zealand Cricket for his new position as director of sport and wellbeing for the Glenn Family Foundation.
For the past two years, the community-minded McGlashan has been the national coordinator and an ambassador for Blow The Whistle On Violence, a nationwide campaign through which sports stars have encouraged families and communities to work together to eliminate domestic violence.
While McGlashan undertook this campaign "for love", it led to a meeting with the Glenn Family Foundation.
Its founder, Owen Glenn, last Tuesday pledged $8 million to deliver a number of initiatives in the south Auckland suburb of Otara, where Glenn used to live, building better and safer lives for children and their families.
It was part of an $80m pledge from the businessman and philanthropist to tackle family abuse and violence around the country. Otara is the "pilot" community for the programmes.
The project's successful launch saw Glenn offer McGlashan a dream job this week, in a field about which McGlashan is already passionate.
"It's an incredible chance to make a difference to people's lives, through Owen's remarkable vision," McGlashan said.
"The foundation supports transformative projects, with a 'hands up' rather than a 'hand-out' approach to its grants.
"I'm going to be assisting in the community in an area in which I know I would love to be working for the next 35 to 40 years."
Considered one of the most innovative players in the New Zealand game, McGlashan, 33, made his first-class debut in 2000/01 and in 2009 set a New Zealand record with 12 wicketkeeping dismissals in a single first-class match.
It was also a world record for the number of catches by an individual in a first-class match, and just one shy of the world wicketkeeping dismissals record held by Zimbabwean Wayne James who snared 13 with a combination of stumpings and catches.
Northern Knights' head coach Grant Bradburn said McGlashan's retirement would leave a "massive hole" in their dressing room.
"Pete is a hugely experienced and skilful player, particularly in the shorter forms of the game - and that calibre of skills you just don't develop overnight.
"His amazing ability to innovate and look at things from a different angle, whether it's been through introducing new gear and equipment or using fresh approaches in the middle, have helped the game in New Zealand.
"An example is a one-day match we played against the Otago Volts two seasons ago in which he changed bats between overs, depending on which bowler he would be facing plus the direction of the wind. He'd use the shorter Mongoose bat for the downwind bowling and the long-handle into the wind.
"I'd never seen an innovation like that before, but he was the master of putting pressure on bowlers at the death in one-dayers or Twenty20s, as well as being the master of the reverse sweep. And, of course, one our most accomplished wicketkeepers, to boot. We will miss him, but I'm stoked for Pete as we're losing him to a very fine cause."
McGlashan said that while he was delighted to be included in the Black Caps' preliminary squad for the World Twenty20 tournament, it quickly became clear to him that he could not justify continuing his cricket career given the scope of his new role.
"Having seen how excited people in Otara are about this project, and knowing the difference it will make, I realised I would not feel comfortable standing out there catching balls while that work waited. I wish the Black Caps well and I will miss being part of the Northern Knights, something that I'm sure will really hit me in summer. But I'm already comfortable that it's the right decision to retire at this point and I feel very fortunate to be exiting the game for an exciting role about which I am truly passionate."
FACTBOX
Peter McGlashan
Age: 33
Major teams: New Zealand, Central Districts, Northern Districts, Otago
Played as: Wicketkeeper-batsman
International: Played 4 one-dayers and 11 Twenty20 matches for New Zealand between 2006 and 2010
Career averages
First-class: 2780 first-class runs at 29.57 with 195 catches and 13 stumpings from 71 matches
One-day games: 2115 runs at 30.21 with 92 catches and 14 stumpings from 99 games
Twenty20: 915 runs at 21.27 with 39 catches and 10 stumpings from 57 games
- APNZ