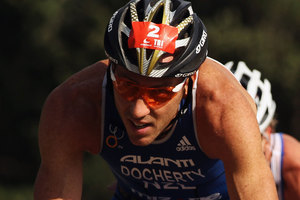 New Zealand triathlete Bevan Docherty has had a good warm-up Olympics with an 11th place finish in an ITU World Series sprint race in Hamburg, Germany, this morning.
Double Olympic medallist Docherty was the best of the Kiwis, coming home well in a fast inner-city sprint.
Olympic reserve Clark Ellice also raced superbly for 14th place while Wanaka's Tony Dodds finished 22nd.
With just over two weeks until the Olympic race in London, Docherty was pleased with his speed and strength over a shorter distance than he has become accustomed to.
"I'm happy with that, it's the first time I've raced a sprint event in a few years. I thought I'd get my butt kicked but I was pleasantly surprised," Docherty said.
"I came out of the water okay and felt really great on the bike. My biking has been going well and today I felt really fresh, and that set me up for a good run.
I was a bit soft over the last 500 metres, I could've dug in a bit more."
Fellow London-bound athletes Kris Gemmell and Ryan Sissons finished further down the field, but most importantly came through with no injuries. Sissons punctured on the cycle leg.
Gemmell flew straight into Hamburg having spent the past few weeks training at altitude in Boulder, Colorado.
Triathlon New Zealand national coach Greg Fraine said the Hamburg race was a good test.
"There's nothing like a race to show where your preparation is at," he said. "The distance was ideal - a sprint is not overly stressful and means less likelihood of picking up an injury. The extra 5km on the run in an Olympic distance race usually means an extra couple of days recovery, which we couldn't afford two weeks out from the Olympics," Fraine said.
The race was won by South Africa's Richard Murray, who outsprinted Spain's Javier Gomez close to the line. Germany's Steffen Justus was third.
- APNZ