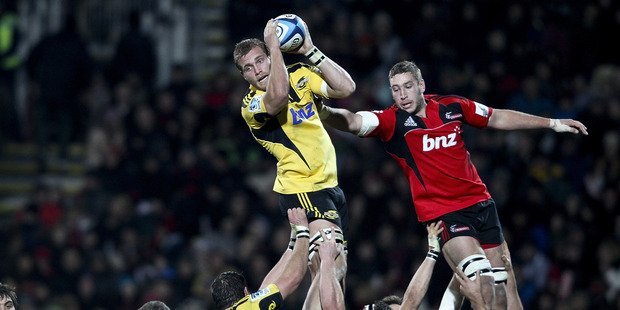 One of the features of this year's competition has been the number of young players who have made a big impression. Gregor Paul looks at 10 young guns who have impressed during the 2012 season.
Brad Shields
* Hurricanes, No 8/Blindside
Produced one of the more notable cameos early in the season when he came off the bench against the Blues and owned Eden Park. The Blues couldn't get him off the ball and they couldn't find a way around him either. It was a performance that said he could be a nasty big lug for years to come, perhaps the perfect replacement for Jerome Kaino.
Ben Tameifuna
* Chiefs, prop
The most intriguing find of the season. He defies medical science in the way he carries that 140kg carcass. Lacking conditioning, good habits and a basic understanding of professional requirements, Tameifuna has gone a long way on instinct and graft.
He is a natural ball carrier and moves shockingly well for a man so big. His scrummaging can be inconsistent but, when he gets the timing right and concentrates, he's immovable. Made the All Black squad as an under-prepared, overweight Super Rugby rookie. Imagine how good he could be when he's properly fit and more aware of the requirements of his job.
Charlie Piutau
* Blues, fullback
Started the last two games for the Blues and in 160 minutes of rugby demanded attention. He can run. He can beat people. He can break the line and he can escape. Bringing Mils Muliaina back to mentor Piutau would be a smart move as the latter's natural attacking talents need to be bolstered with a strong kicking game, defensive clout and the ability to field the high ball.
Eben Etzebeth
* Stormers, lock
Comes from a family who are close to being Western Province rugby royalty. Just 20, Etzebeth is a freakishly powerful athlete standing 2.03m and weighing 120kg. He could become the perfect hybrid - taking the ball skills, mobility and dynamism of Victor Matfield and mixing them with the raw power and aggression of Bakkies Botha. He's won three Springbok caps and looks set for a long test career given he's shown himself to be strong in the air, tough in the tackle and fearless.
Jeffery Toomaga-Allen
* Hurricanes, prop
Graduated from the New Zealand under-20s to Super Rugby without playing in the ITM Cup last year; he missed it due to injury. Hurricanes coach Mark Hammett was maybe taking a punt ... but was rewarded with some big performances from the tighthead prop. His scrummaging has a long way to go but his handling, support play and general rugby skills were outstanding. If he can get the grunty part of his game right, he'll be a quality operator.
Beauden Barrett
* Hurricanes, first-five
What impressed most was the way his game improved each week. His defence was suspect in the early part of the campaign but, in the last few games, he made more tackles, held his line better and became more effective. His composure and confidence were rock steady all season and he never lost the art of timing.
Liam Gill
* Reds, openside flanker
Australia may be struggling in many positions but they have an abundance of riches at openside. Gill is yet another scavenging flanker who gets to the ball first and manages to keep his head down and his core strong as he forages. He lacks a bit of bulk but that will come. Once he's added more power to his frame, he'll be dynamite. Has a natural instinct to follow the ball and be in the right place at the right time.
Michael Hooper
* Brumbies, openside flanker
Not yet 21 and this is his third season of Super Rugby. The Brumbies openside is a ferret, just like David Pocock and already just about as good. The Brumbies relied on his pick-pocketing all season and he was masterful at timing his steal - staying strong over the ball and hauling it out. He is a genuine number seven whose main skill is to win and protect the ball but he was improving his distribution and link work in the final few weeks. Deservedly earned his first Wallaby cap in June.
Kane Douglas
* Waratahs, lock
The 23-year-old has been around for a couple of seasons but this was the campaign where he made his presence felt. He's a major unit - 2.03m and 123kg - and yet he gets around and tackles like a loose forward. With Nathan Sharpe retiring and Dan Vickerman's future uncertain, the Wallabies need a bit of grunt in their boilerhouse. Douglas is the man for that - a player who has struggled for game time in the past but has taken his chance this year.
Johan Goosen
* Cheetahs, first-five
Just 19, he starred for the South African under-20s last year and would have done so again this year had it not been for injury. He is not typical of a South African No 10 - he's a runner, an all-seeing distributor and lively sort who relies on his pace off the mark and ability to open defences with his timing and acceleration. He showed with the Cheetahs that he can kick and control as well; he may be exactly the sort of player the Boks need if they are to become a considerably more potent attacking threat.