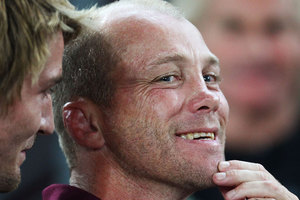 The Bulldogs have claimed victory in the NRL's grudge match of the season but it's Manly coach Geoff Toovey's slamming of the referees that's got everyone talking.
Des Hasler's Bulldogs have scored a 20-12 victory on their coach's homecoming to his former ground in Manly.
But Toovey says the two referees Ben Cummins and Brett Suttor were a large part of the Sea Eagles' loss.
"They had terrible games, terrible decisions. I can't wait until they try and explain some of them."
He says he has to question the league because they definitely weren't the best referees.
Meanwhile, the Titans have scored a spirited 14-10 upset win over the Broncos on the Gold Coast to keep their playoff hopes alive.