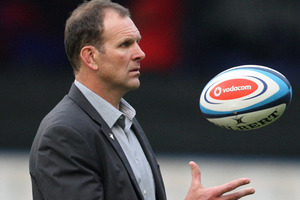 Sharks coach John Plumtree has ripped into the Super Rugby format on the eve of the playoffs.
The Sharks will meet the Queensland Reds tomorrow night in Brisbane in a qualifying final after home advantage was handed to the Reds by winning the Australian Conference with the lowest points of the six qualifiers.
Plumtree said having the weak Australian sides play each other twice weakens the competition.
"I guess they are a little bit worried about it, it's probably a major concern for SANZAR as well because they see Super Rugby as being the lead competition in the world. We've got to get Australian teams up to speed," he says.
It is not the first time that someone has spoken out about the quirks in the new Super 15 format.
The three week international break in June also drew its fair share of detractors, most notably the Blues who had a bye after the leagues resumption, meaning they were on the sidelines for a month.
Meanwhile, tickets are still slowly going out the door for tomorrow night's showdown between the Bulls and Crusaders at AMI Stadium.
Around 7000 still remain at the 21,000 capacity venue.