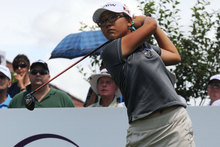 Lydia Ko has continued her good form and qualified as the No 2 seed for the US girl's junior championship at the Lake Merced Golf Club in California.
The 15-year-old carded a one under par 71 in the second to finish runner-up to Thailand's Ariya Jutanugarn by three shots. The 156-player field has been trimmed to 64 players for match play, which begins on Thursday (NZ time) and concludes with the 36-hole final on Saturday.
Ko, who was the best amateur at last week's US Women's Open, had her hands full early, opening with double bogey and bogey on the inward nine.
However, a 30-foot birdie putt at the par-3 12th, her first of the championship, came at just the right time.
"The first couple of holes, my drives were going everywhere," Ko said. "But then on 12 I had my first birdie of the tournament and on 13 I had a good drive down there, so I think I got my confidence back.
"I think my putting got better then and the confidence started to rise because I was putting good at the [US Women's] Open and I was kind of shocked after yesterday."
- APNZ