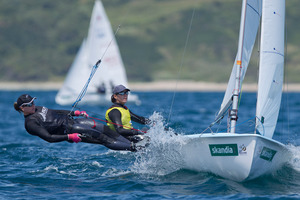 Jo Aleh and Olivia Powrie. Photo / onEdition
The scar above Jo Aleh's right eye is a reminder, if she needed one, that she and crew Olivia Powrie need to be prepared for anything once the Olympics get under way.
The 26-year-old sailor fell off her bike on a ride back to their base after a day's racing at May's 470 world championships in Barcelona earlier this year, jeopardising their chances of finishing on the podium. In the end, Aleh and Powrie finished a less-than-satisfactory fourth after having chances to win.
"It was just one of those freak, silly accidents," Aleh said. "It was a five-minute ride, not even that. It was at the end of a long day. I over-corrected on a corner and did a face plant. At least I took out my face. I didn't break anything."
That would have been disastrous but they were anything but Team Jolly (a combination of Jo and Polly, the name Powrie is more commonly known by) as Aleh had to contend with four stitches, a black eye and grazes on her chin and palms.
To top it all off, it happened a day before her birthday.
Aleh and Powrie will hope they have more to cheer about at the Olympics where they are among the favourites for gold in the women's 470 sailing class.
They finished third at last year's world championships in Perth and won the International 470 Spring Cup and Sail for Gold regatta in Weymouth where the Olympic sailing competition will be held.
Aleh will still jump on a bike during competition ("I still have to get to the yacht club," she said) but will make sure she wears a helmet now for even the smallest journeys.
It's just another thing Aleh and Powrie will tick off on their checklist.
The pair consider themselves one of the more organised crews in world sailing in the hope of minimising effects from the unexpected. It's one of the learnings Aleh took from the Beijing Olympics, where she finished seventh in the Laser Radial after leading at the halfway point of the regatta.
London will be the first Olympics for the 24-year-old Powrie.
"My last Olympics didn't go well for me," Aleh said. "I pretty much stuffed it up big time. It was really good learning.
"One of the biggest things I learned was the importance of planning. This time around, we have tried to do a lot more paper work on the campaign. First time, it was wing it, see how it goes. You don't learn to plan until you haven't and it goes wrong."
It has seen Aleh and Powrie spend considerable time in Weymouth. It's a venue that will suit the New Zealand crews because the conditions are similar to this country - usually a moderate to strong breeze but with the potential to go flat.
It's the one variable they can do nothing about and it will challenge crews to make the right decisions on the race course.
Aleh and Powrie are usually on a similar wave length but have worked with a sports psychologist about how to make decisions when they disagree on tactics.
About seven crews have the ability to win gold in the women's 470 class - named because boats are 470 centimetres long - with Team Jolly among them. As long as they don't fall off their bikes.
- APNZ