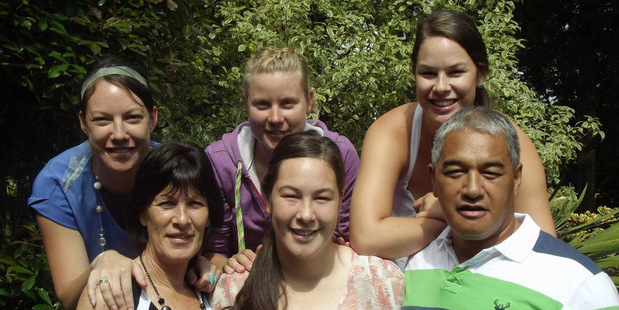 Linda Villumsen (middle back) with the Houkamau family, Tara-Lee (left), mum Angela, Tyneesha, Tessa and dad Bindy. Photo / Supplied
Angela and Bindy Houkamau knew they had welcomed a sporting prodigy into their home within days of their Danish exchange student's arrival.
The 16-year-old could not afford to travel with her beloved bike so joined a harriers club. Her team immediately won a local race in Whitford. Then she jumped on a bike for Pakuranga College and the team won the Auckland secondary schools' time trial race for the first time.
The Houkamau family initially knew her as "Mel" after her middle name Melanie. Seven years on, "Mel" rode for Denmark at the Beijing Games and finished fifth in the road race. She's now better known as Linda Villumsen.
In the London Olympic road race on July 29 and the time trial on August 1, she will be riding for New Zealand.
BikeNZ high performance director Mark Elliott has already pointed to her as one of the team's key medal prospects.
In a fortnight, the Houkamaus will be settling in front of the telly in the lounge to watch the girl who has become part of the family.
"She's like an adopted daughter to us," Angela Houkamau, mother of three daughters, says. "She came out to improve her English and has always stayed with us since. She has her own bedroom. We're so proud of her. We follow her achievements around the world and keep pictures of her in our lounge.
"She has an incredible self-discipline ... she'd leave most Kiwi kids for dead. If we say 'c'mon Mel, we're off somewhere', she will politely say 'no' and go about completing her routine. She also doesn't eat the same food as us. She buys fresh fruit and veges every day."
Villumsen became a New Zealand citizen in 2009 and her dedication to New Zealand is unquestionable. She has developed an affinity with Maori culture, through Bindy Houkamau's Ngati Porou heritage.
"I took her down to Hicks Bay, where my family are based," Bindy Houkamau says. "I remember her asking if she could go and have a look inside 'one of those red houses'. So we took her into the marae and she loved it. Come to think of it, she also loved riding up and down those hills on the East Cape."
Villumsen (now 27) rides the pro-tour for the Orica-AIS team in Europe. She has taken bronze, bronze and silver medals in the time trial at the last three world championships. Her current form is outstanding, winning the time trial against the Olympic and world champions on her way to claiming overall honours in the Giro de Trentino in Italy last month.
She is in her final phase of altitude training before the Games, based in the Italian town of Livigno on the Swiss border. When the Herald on Sunday spoke to her it became clear she still loves simplicity; she was boiling a billy of tea. Villumsen is revelling in the prospect of representing New Zealand again after taking silver in the time trial at the Delhi Commonwealth Games.
"The moment I arrived in New Zealand, I wanted to stay. It was in my heart. The Houkamaus took me in as a stranger and made me feel so welcome. As a result, I don't have a Danish passport any more.
"I love the relaxed nature of New Zealand; the fact you can walk around in board shorts and jandals. I also love how much New Zealanders get into their sport. People appreciate it when you're good at something. That means so much."
Villumsen originally got into cycling because of the 1996 Tour de France success of Danish cyclist Bjarne Riis.
The tale feels hollow now.
"His win set off a cycling boom in Denmark. I was 11 and so many kids were suddenly on bikes. He was a national hero. Unfortunately we now know he was loaded up on drugs." Villumsen has just come off the Giro Donne (the women's version of the Giro d'Italia) and is happy with the amount of work she's done in the Olympic lead-up.
Her rapid recovery from racing and training has also given her confidence. She sees the London Games as a platform to showcase women's cycling.
"It's a chance for us to get some attention and show we are as professional as the men. Our racing tends to be different. Our distances are not as long but I find our races more interesting over 140km compared with the men doing 220km - because you find for the first 100km or so they race as a bunch. "I would like to see the UCI [International Cycling Union] change its approach to the Olympics. A normal race has 140-200 riders whereas there will only be 67 in the Olympic field. A lot of talent misses out because of those strict rules."