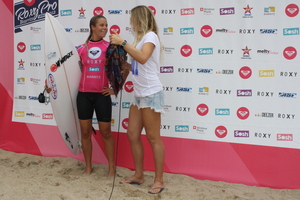 Paige Hareb, New Zealand's top female surfer, has progressed to the fourth heat of the Roxy Pro in Biarritz, France.
The competition is the sixth stop out of seven on the ASP World Tour, an international competition circuit of championship female surfers.
Hareb, ranked eleventh equal in the world, is among twelve surfers competing tomorrow and is the only New Zealander left in the competition after the elimination of Sarah Mason earlier in the day.
The two Kiwi girls hold unique positions in the eighteen-strong championship circuit.
Mason is currently the youngest competitor on the circuit at seventeen years old and Paige is the first New Zealand female in history to qualify for the prestigious tour.
Hareb, on tour for the fourth time, says she's expecting "at least fifth" in Biarritz this year.
She faces Carissa Moore, world number three, from Hawaii and Laura Enever, world number six, from the USA tomorrow morning at 9am (7pm NZT) on Biarritz's Grande Plage.