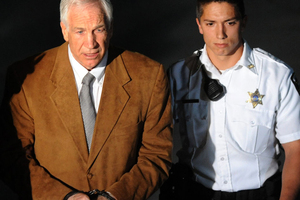 Jerry Sandusky was convicted of sexually assaulting 10 boys over 15 years. Photo / AP
Top officials at Penn State University showed "total and consistent disregard" for the well-being of the young victims of a pedophilia scandal, a damning independent investigation found Thursday.
The US college hired former FBI head Louis Freeh to conduct the eight-month probe into the sex abuse perpetrated by Jerry Sandusky, an assistant football coach at the school, who was convicted on pedophilia charges last month.
Freeh's report found a pattern of negligence and concealment by "the most powerful people" at Penn State, including its former president Graham Spanier and legendary football coach Joe Paterno.
"They exhibited a striking lack of empathy for Sandusky's victims by failing to inquire as to their safety and wellbeing," the Freeh report found.
He added the university seemed more concerned about avoiding "bad publicity" than assisting the victims and for 14 years effectively covered up abuse that has now shocked a nation that is passionate about college sports.
"We're horrified. We're saddened. We are - there are not enough superlative words to use," Karen Peetz, chairwoman of the Penn State Board of Trustees, told reporters in Scranton, Pennsylvania.
Kenneth Frazier, chairman of the special investigation task force, added: "An event like this can never happen again in the Penn State University community. Judge Freeh's report is both sad and sobering."
"On a personal level, you should know that our hearts remain heavy and we are deeply ashamed," Frazier added.
Freeh conducted over 430 interviews of key university officials and staff as well as an exhaustive review of emails, school records and other documents in his investigation.
His probe excoriated the university for failing to notify the proper authorities immediately when revelations first surfaced that Sandusky had engaged in improper behavior involving children.
"Our most saddening and sobering finding is the total disregard for the safety and welfare for Sandusky's child victims by the most senior leaders at Penn State," Freeh said at a press conference at his Philadelphia law firm.
"The most powerful men at Penn State failed to take any steps for 14 years to protect the children who Sandusky victimized," he said.
Sandusky is in prison awaiting sentencing after being convicted last month of molesting 10 boys over 15 years, recruiting victims under the guise of a program he ran for neglected youths.
Freeh said he hoped his scathing findings would provide a measure of solace to the victims, but his report also provides powerful ammunition to victims and their families considering suing the university for negligence.
The report pointed the finger at former athletic director Tim Curley and Gary Schultz, a university vice president who was in charge of the campus police, both of whom are awaiting trial on charges of perjury and failure to report abuse.
The report deals a particularly devastating blow to the legacy of Paterno, a legend who won more games than any other top-level US collegiate coach in history and who dominated gridiron performances for half a century.
Paterno, who died of cancer in January, was seen as the most powerful man in the university town of State College, Pennsylvania, because of the millions of dollars that poured into Penn State coffers each year, in part from adoring alumni proud of its storied football tradition, in part from outside sponsors.
But Paterno's legacy has been forever sullied by the charges - backed up in Thursday's report - that he failed to take action against Sandusky, allowing him to target new child abuse victims at will.
In 2001 a junior coach, graduate assistant Mike McQueary, told Paterno he saw Sandusky molesting a boy in a locker room shower at the school.
Paterno allegedly failed to pass that information to the authorities.
This week, Paterno's family undertook damage control ahead of release of the report, charging that the emails and other documents released with the report "intended to smear Joe Paterno and other former Penn State officials."
"The board promised a fair, transparent and impartial process. These developments are a threat to their stated objectives," a family statement said.
University president Rodney Erickson said the school was "committed to helping to build greater awareness of the societal issue of child abuse."
"Penn State will emerge from this as an even stronger and better institution," he pledged.
- AFP