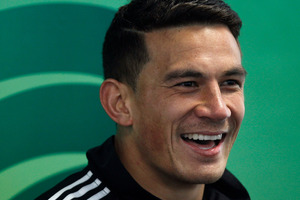 Sonny Bill Williams. Photo / AAP.
I can't wait to see Sonny Bill Williams back in the NRL although he would be best advised to steer clear of encounters with his former club the Canterbury Bulldogs.
The Sydney Roosters, one of my old clubs, will sign Sonny Bill. I'm sure of that. The Roosters are ambitious and they almost always get their man.
People on this side of the Tasman may not realise just how rich, powerful and well-connected the Roosters are.
But nothing will save Sonny Bill from the wrath of the Bulldogs' fans, after the poor way he walked out on the club. This is my only question over his return to rugby league, because he will be an even better player than before.
The Bulldogs' fans will never forget or forgive what happened. Trust me, their fans can be very volatile and it will be dangerous for him to go anywhere near them. A clause in his contract stating he does not play the Bulldogs wouldn't be a bad thing, but at the very least there will have to be heightened security measures for his entry to and exit from the ground.
I would be very worried about his safety.
The Roosters and the eastern suburbs are an ideal fit for him. The Roosters coach Brian Smith has been around forever and the club is on the rise again. Sonny Bill is more suited to rugby league because he will get more space. His lifestyle - he doesn't drink or smoke - and life as a multi-skilled sportsperson means he will be fit and ready for a high work rate.
From an age point of view, he will see the game better now. He is primed to go, and it is also a win-win for the NRL. Older and hopefully wiser, he will be better able to handle the fanfare and there will be plenty surrounding his return.
As a Kiwis selector, I'll say that it is the responsibility of the New Zealand Rugby League to find out if Sonny Bill is available. We will have to see how he develops as a player but I'm sure he will put himself in the selection frame and we'd be mad not to want him involved for 2013.
The Warriors need to win at least four of their last eight games, starting against the Broncos this weekend. The Broncos have done extremely well during the State of Origin period, winning five out of 10 games with their young squad. After a week's break, they will be fully focused on the NRL.
The Warriors have played fantastic football for 70 minutes and gone missing for 10. With Kevin Locke back, the spine of the team will start to hum again. This is a telling game for the Warriors.