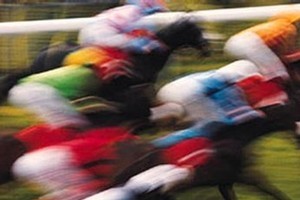 Although he is down the pecking order at team Peter Moody, former Ashburton jockey Daniel Stackhouse doesn't want to be with any other stable.
"There are five of us riding here. We all get on well and it feels like we're part of a team," he said.
Stackhouse is competing for rides with Luke Nolen, Linda Meech, Jason Benbow and Jake Duffy for Moody.
The Caulfield horseman makes the decision as to who rides what and Luke Nolen is the usual first preference, with the other jockeys sharing the crumbs.
"It's great being there. Pete is loyal and if you work hard you get your opportunities," he told the Herald Sun.
Stackhouse is making the most of his chances as he has ridden 46 winners from 443 rides at a strike rate of better than 10 per cent this season.
Stackhouse, who rode 20 winners over the jumps in New Zealand from 100 rides before coming to Australia, could show his versatility this weekend as he is booked to ride Awapuni jumper Foremost in the Grand National Hurdle for Mark Oulaghan.
But Stackhouse said Foremost was struggling to get over a stone bruise.
In Queensland, trainer Brian Smith is the latest addition to the Rosie Myers fan club after the Kiwi apprentice won on Fouardeeson at Doomben.
Smith was effusive in his praise for the Wanganui jockey, 24, after she brought Fouardeeson ($3.50) with a late surge to win the Chek Air Conditioning Hcp (1350m) last Saturday.
It was the middle leg of a treble for Myers, who won on Silk Traders ($3.70) for her Brisbane boss Kelso Wood in the Stephens Hcp (1200m) and Welcome Parade ($11) for David Murphy in the Panasonicair Hcp (1200m).
"Some of my close mates from New Zealand put a huge wrap on Rosie when she first arrived and from what I've seen of her in Brisbane they are right on the money," Smith said.
"Rosie is good enough to hold her own with the senior jockeys but because of the rules she gets a 2kg claim here.
"It's an enormous advantage when she is such a capable and professional rider. She's going to do extremely well in Brisbane in the next few months."
Myers said the winning treble so early in her Brisbane venture had increased the chances she would have an extended stay.