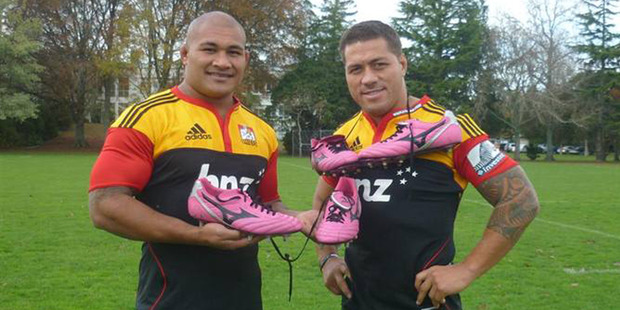 The auction winner of Chiefs prop Sona Taumalolo's hot-pink rugby boots is probably hoping some of his luck will rub off on them.
Taumalolo made a fashion statement with teammate Mahonri Schwalger when they stepped on to the field in the fancy footwear to play the Waratahs in March.
But they won't be donning the iconic boots again - both pairs were auctioned off on Trade Me last night to raise money for the Breast Cancer Foundation.
Samoan Rugby World Cup captain Schwalger's US size 12 (10.5) boots raised $262, while Tongan international Taumalolo's US size 13 (11.5) pair reached $300.
Taumalolo's were the more sought-after pair following his heroic performances at Rugby Park in Hamilton that made him the team's leading try scorer.
The Chiefs won against the New South Wales team 30-13.
The two players have offered to sign the boots and hand them over in person if the bidder can get to a Chiefs training session in Hamilton.
The pair both have daughters and said they were proud to break tradition by wearing the bright footwear.
"Mahonri asked me if I would be keen to wear pink to support breast cancer [awareness] and I jumped at the chance," said Taumalolo.
"But I didn't appreciate just how much attention they would create."