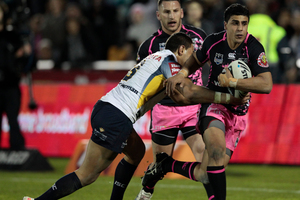 Omar Slaimankhel says fasting makes him feel good. Picture / Brett Phibbs
If Omar Slaimankhel scores a try against Newcastle Knights in a couple of weeks' time, don't expect to see the fledgling Warriors wing celebrate with the traditional quick swig of water.
With the Muslim holy month of Ramadan starting on July 20, there will be no halftime snack either for the Pakistan-born 20-year-old. Eating and drinking between sunrise and sunset is strictly forbidden during Ramadan for most Muslims.
In this part of the world, Muslim professional sports folk are fairly rare. A canvas of the Herald sports department could muster just two names - Slaimankhel and Sonny Bill Williams.
Apologies if we've missed anyone obvious or recently converted.
Balancing the nutritional requirements of professional sport with religious stricture is rare in these parts, but it is a commonplace challenge elsewhere.
The forthcoming Olympic Games, for instance, will take place entirely during Ramadan. An estimated quarter of the athletes attending - about 3000 - are Muslim.
While there was an initial upsurge of angst about the timing of the games, that appears to have quickly subsided into acceptance. Ramadan often conflicts with major sporting events. The answer for many Muslim athletes is a get-out clause in the scripture for those travelling or competing in sports.
"It is impossible to fast and go to the finals," Iraqi 800m runner Adnan Taaias told a British newspaper recently.
"We need to be performing at the highest level, train hard and be in the right psychological state, which is impossible if we are fasting."
Not so, insists Slaimankhel.
"It's cool," he said.
Ramadan didn't impact negatively on his performances for the Junior Warriors or Auckland Grammar 1st XV in recent years, but having won a spot in the Warriors' first grade side, he is entering new territory.
Much was made of Williams' first Ramadan experience, with some suggesting the relatively recent convert to faith would find it harder to adjust than someone who has observed the fast for most of their life.
Slaimankhel agreed with that. To him the fast just seems normal.
"I've done it growing up for the last 10-12 years. I love it. I feel good doing it.
"You just eat as much as you can [at night] to fuel yourself up for the next day and then do it all again for the next 20 or 30 days. It's cool. If I had just come into it it would be hard, but doing it my whole life it is just the same."
Slaimankhel doesn't even opt out when travelling to Australia for matches, choosing instead to endure days lengthened by travelling into a new time zone.
"When we are on the flight all you think about is waiting for dinner - but time goes fast on a plane."
With Manu Vatuvei expected to return to fitness as early as next week, it remains to be seen if Slaimankhel is still in the side come July 20.
He has been steady in two appearances as a late call-up, and tonight against the Titans plays his first match having had a full preparation as part of the team.
A brilliant Matt Bowen cover tackle denied him what would have been his maiden NRL try against the Cowboys last week, but he doesn't expect the drought to last long.
He failed to score in his first four matches for the junior side, but the tries soon came and haven't stopped since, his tally standing at a remarkable 45 from 45 matches.
"He is a real confident kid, Omar," coach Brian McClennan said.
"He doesn't suffer from any nerves or anything. He believes in himself and that is fantastic. I'm sure he will come up with a strong performance for us."
Off-contract at the end of this season, Slaimankhel appears unlikely to be retained by the Warriors due mainly to the presence of Kevin Locke and Glen Fisiiahi in his favoured fullback position.
He has been linked to several other clubs and is likely to be snapped up somewhere if a Warriors deal isn't forthcoming.
"I just leave that to my manager and whatever happens happens," he said.
"I am real happy where I am at right now. Hopefully I play well [tonight] and a window opens."