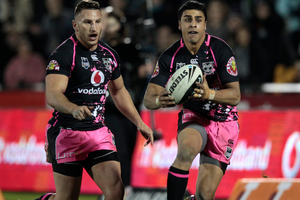 Warriors winger Glen Fisiiahi faces up to eight weeks on the sidelines after suffering a knee injury during a training run last week.
Fisiiahi joins Micheal Luck and Manu Vatuvei on the list of injured players unavailable for Saturday night's crucial showdown with the Titans on the Gold Coast.
Coach Brian McClennan said Fisiiahi was just returning to full fitness from a knee injury when he went down again last week.
"It appears he has ruptured his PCL [posterior cruciate ligament] and if that's the case he will be out for six to eight weeks," McClennan said.
"He hasn't had a lot of luck. It's part of our business, but it's a shame. We would love to give him more opportunities; he's a very exciting prospect."
However, McClennan is confident that 20-year old winger Omar Slaimankhel will continue to take the opportunities that the recent spate of injuries has presented.
"Omar is a real confident kid, he doesn't suffer from any nerves, he believes in himself and it's fantastic. I'm sure he will come up with a great performance for us and he has that ability to come up with something extra too."
It will be the third consecutive start for Slaimankhel and McClennan said he was getting better each week.
"The first game he found out the difference between NYC [National Youth Cup] and first grade, second game he was a bit more aware and this week ... we have been able to work with him on some of the things he can improve on individually."
McClennan expects the Titans to field a strong side, with Beau Champion, Luke Bailey, William Zillman and Matt White returning from injury and Nate Myles and Greg Bird likely to feature post Origin.
The Warriors sit in ninth place, one above the Titans, and are a couple of wins away from getting right back in the finals hunt, but also a couple of losses away from irrelevance.
McClennan will hope his side can react to the pressure of equalling their longest consecutive winning run of the season - two matches.