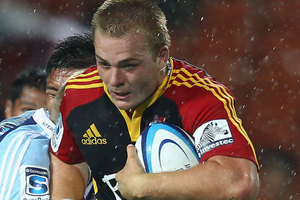 There was no collusion in the match-up - no manipulation was needed. The Chiefs against the Crusaders is top-shelf footy and features like Sam Cane squaring off against Richie McCaw come with the territory.
The coaches have not disappointed with the Crusaders returning all their star names for tomorrow's clash in Hamilton, which they need to win to regain some momentum and assist their push for the playoffs.
Israel Dagg, Daniel Carter and Kieran Read have all returned from injury, while McCaw has moved to his primary openside duties in a side boasting a dozen All Blacks and two more on the bench.
The Chiefs have ensured they will be in the playoffs but also want to push further ahead for the financial and playing benefits of hosting finals matches.
They have lost Kane Thompson to a back injury and replaced him with Alex Bradley, while three other switches give Andrew Horrell, Cane and Sona Taumalolo work in the run to the semis.
Five All Blacks and two other internationals populate the Chiefs' ranks while a quartet of former All Blacks inhabit the bench.
It might have been mate against mate, state against state in another code across the Ditch last night, but tomorrow will be the doyen against the disciple when McCaw and Cane strut their stuff.
"I'm sure the whole country is keen to watch that develop," said Chiefs coach Dave Rennie.
"We have been very fortunate we have a number of good sevens with Tanerau Latimer outstanding for us this season. In the end it is about sharing the load but Sam deserves his opportunity, he was great for the All Blacks in the third test and I know he is really hyped for this."
The Chiefs were probably more motivated than they were when the Super 15 resumed after its interruption for the June internationals.
All Blacks such as Aaron Cruden and Sonny Bill Williams had trained throughout this week rather than the one hit-out they had before their last-round duel with the Highlanders.
"[The boys] are well aware of the quality of that Crusaders' side. There are a lot of good matchups and the boys are really keen," Rennie said.
First five-eighths Aaron Cruden had been a key contributor with 17 points against the Highlanders. His sore Achilles tendon had tightened up around the 60-minute mark but that had been something he had battled all season.
This week, though, he felt freer, he had trained every session and the Chiefs were optimistic he would deal out 80 minutes' work against Daniel Carter, Rennie said.
Earlier this season Andrew Horrell had played superbly at fullback. Robbie Robinson had filled in so well at the back while he recovered from injury so it was decided that the best move was to use Horrell at centre.
"We want a lot of guys who have played a lot of footy and have played themselves into a bit of form as the playoffs approach.
"They all want to put the pressure on. Robbie got his chance last week and was outstanding so we were keen to reward him with another crack and so put Andrew, who is very versatile, into midfield.
"It is an important game for both sides and I'd imagine they would be pretty desperate after last week," Rennie said of his rivals.
"From our point of view we know we have qualified, but we have got an opportunity to position ourselves well so we don't have to travel and that's pretty crucial."
Trips left players and staff needing a few days to get acclimatised to different time zones, Rennie said.
The Chiefs had done their maths on the future and the best scenario was to stay home.
CHIEFS
Waikato Stadium, 7.35pm
Robbie Robinson
Tim Nanai-Williams
Andrew Horrell
Sonny Bill Williams
Asaeli Tikoirotuma
Aaron Cruden
T. Kerr-Barlow
Alex Bradley
Sam Cane
Liam Messam
Brodie Retallick
Craig Clarke (c)
Ben Tameifuna
Mahonri Schwalger
Sona Taumalolo
Chiefs: Hika Elliot, Toby Smith, Romana Graham, Tanerau Latimer, Brendon Leonard, Jackson Willison, Lelia Masaga.
CRUSADERS
Israel Dagg
Adam Whitelock
Robbie Fruean
Ryan Crotty
Zac Guildford
Daniel Carter
Andy Ellis
Kieran Read
Richie McCaw (c)
George Whitelock
Sam Whitelock
Luke Romano
Owen Franks
Corey Flynn
Ben Franks
Crusaders: Quentin MacDonald, Wyatt Crockett, Tom Donnelly, Matt Todd, Willi Heinz, Tom Taylor, Sean Maitland.