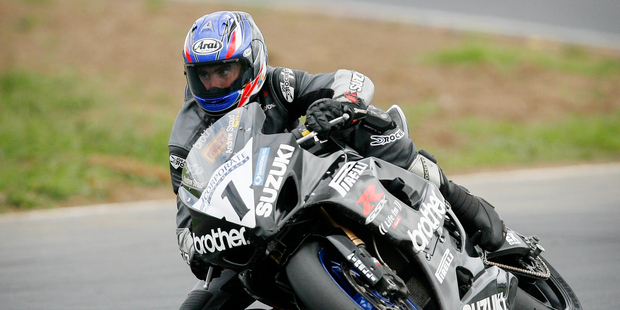 Although winter chills are sweeping the country the nation's top superbike road-racers are already thinking about a long, hot summer.
The popular annual Suzuki Tri Series, followed by the five-round Superbike Championships, will ensure that the engines keep booming from early December until late March.
With sponsorship dollars for sports events harder to come by with each passing year, Tri Series organiser Alan "Flea" Willacy said he was thrilled that Suzuki New Zealand had again come to the party, confirming sponsorship of the series for the next two years.
The Boxing Day street race event in Wanganui is again the third and final round of that Suzuki Tri Series competition.
This year will also mark the 60th running of the Cemetery Circuit race.
"It's fantastic to have this support from Suzuki this year and in 2013 as well," said Willacy.
The Cemetery Circuit event is one of New Zealand's biggest bike races, an important event on the Kiwi race calendar, a spectacular one-day show that attracts many thousands of race fans each summer and lures top-class motorcycle racers from throughout New Zealand and overseas.
Suzuki rider Andrew Stroud made it four consecutive Tri Series outright wins when he wrapped up the superbike title again on Boxing Day last year.
The nine-time former national superbike champion from Hamilton was runner-up at last year's series opener at Hampton Downs in December and snatched the points lead when he won the day at round two at Manfeild a week later.
He was beaten on the twisty streets of Wanganui's Cemetery Circuit in Boxing Day's series finale, Yamaha's Dan Stauffer again proving to be the best that day. But that didn't matter because Stroud had accumulated enough points to rubber-stamp his "ownership" of the Suzuki Tri Series.
Stroud has won the superbike component of the series every year since the inaugural running in 2008 and will be hoping to extend that to a fifth title when the series starts again in December.
For the New Zealand Superbike Championships that follow hard in the wheel tracks of the Tri Series, Stroud can again expect stiff competition from Australian Robbie Bugden - who stole Stroud's thunder and raced his way to Kiwi superbike title No4 last summer - as well as Wellington's Sloan Frost, Hamilton's Nick Cole, Feilding's Craig Shirriffs and Christchurch's James Smith.
Watch out for Kiwi internationals such as Yamaha riders Jake Lewis and Jaden Hassan and Honda's Avalon Biddle to also return to rev up the action in the 600cc division.