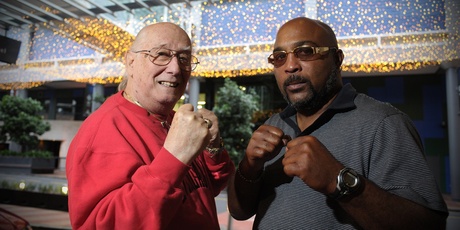 High rollers to rock'n'rollers, heavy dudes to heavyweights, two ringside legends have seen it all.
If Monte Barrett needs some extra inspiration before his fight with Shane Cameron this week, he won't need to look very far.
In his corner are two of the most experienced - and colourful - men in the world of boxing, both with their own catalogue of larger than life stories and anecdotes.
His manager, Stan Hoffman, grew up surrounded by a mafia family, spent time in jail and garnered worldwide hits for men such as Chuck Berry as a music mogul before turning to boxing. There he's managed numerous world champions, including Hasim Rahman and James Toney.
Barrett's trainer is Buddy McGirt, the former welterweight world champion who was involved in memorable duels with Hall of Famer Pernell Whittaker in the early 1990s and is a contemporary of men such as Thomas Hearns, Sugar Ray Leonard and Marvin Hagler.
He's trained boxers such as heavyweight Antonio Tarver, who duelled with Roy Jones jnr in world title fights in the early 2000s.
It's fair to say both men are boxing fanatics who live and breathe the sport. But if you happen to meet them over the next few days, whatever you do, don't refer to boxing as "the fight game".
"I hate that expression," says McGirt. "People love to talk about the fight game but this ain't no game. This is a business and you have to be totally professional if you want to succeed."
It might be a serious business but they are happy to spend 90 minutes candidly recounting stories and tales as we sit in their Auckland hotel.
"I could talk about boxing all day," says Hoffman, "but I'm not sure everybody would want to listen."
Hoffman was born into the New York mafia and proudly declared at the age of 6 that "he wanted to be a gangster".
His uncle was Meyer Lansky, who was reputedly at the head of the Mob from the 1930s, alongside 'Lucky' Luciano and Bugsy Siegel. Lansky built the first hotel in the Nevada desert to help establish Las Vegas as a gambling mecca and invested in casinos in Cuba in the 1950s before Fidel Castro bid hasta luego when he took control of the Caribbean island.
Hoffman was involved in the "family business" until his early 20s, before a 17-month stint in jail for shooting a man ("I hit a guy on the shoulder with a bullet") saw him question his future. Upon release, he pursued a career in the music business and went on to work with Muddy Waters, Etta James, Chubby Checker and Chuck Berry.
"I remember taking Chuck Berry to a show at a big nightclub," says Hoffman. "They paid us in cash before the show but Chuck wouldn't go on stage until we counted every dollar into his guitar case."
Hoffman doesn't deny his mafia links - "I had business partners, who invested, who lent me money, I couldn't exactly go to the banks" - but says he has always run his own businesses on the straight and narrow. Probably the peak of his management career came with Hasim Rahman, who shocked Lennox Lewis to win the heavyweight title in 2001. The rematch was promoted by Don King and proved extremely lucrative for both Hoffman and Rahman.
"We were sitting in a hotel room until 4am going through the details with Don," recalls Hoffman. "He wrote out a personal cheque for US$4.8 million [$6 million], then had an assistant bring in a bag filled with US$200,000 [$250,000] in cash. Don said it was spending money for Hasim, in case he wanted to buy something."
As Hoffman tells one tale, McGirt is able to match it with another from his career.
"Where I grew up, if someone was going to jail, we would say they were 'going to college'," says McGirt. "Some guys went in and learnt something, some guys didn't."
McGirt, who turned professional and took his first fight on two weeks notice after his girlfriend fell pregnant, went on to have 73 wins in 80 bouts.
He was a 10-1 underdog in an early title fight but won, much to the delight of the mobsters who had followed his progress and bet heavily. They sent men to the fight with briefcases full of cash and went home with suitcases, laughs McGirt.
"They were pretty happy and later that night hosted a big party for me and my brothers."
Once McGirt starts, the stories don't stop. He talks of former world heavyweight champion Michael Moorer coming to train in his New York gym and hearing a loud thud as Moorer dropped his training bag to the floor.
"I asked him, what's in your bag, Michael? He replied that it was his 45. I told him you don't need that in here."
McGirt recently spent time at a Boxing Hall of Fame weekend, catching up with old friends such as Hearns, Hagler, Leonard and Moorer. They sent Moorer out for food at 1am. He returned with "40 double cheeseburgers".
Hagler remains a fitness fanatic, encouraging the others to get up for 5.45am morning runs.
Another time, a group of boxers including Oliver McCall and McGirt were being driven to their training quarters by Don King's personal assistant, nicknamed "Sox", when a group of young hoons hurled some abuse at his slow driving.
The boxers, sitting in the back of the van behind tinted glass, encouraged the elderly driver to reply in kind. He did and both vehicles eventually pulled over.
As boxer after boxer emerged from the van, the mouthy teenagers beat a hasty retreat.
Both McGirt and Hoffman nominate Sugar Ray Robinson as the greatest boxer they have seen and (perhaps surprisingly) Floyd Patterson as the best heavyweight.
Hoffman, who is in his 80s, has no plans to retire.
"I'm lucky to be doing what I love," says Hoffman, "and I'm glad my life changed direction. Two of my old [childhood] friends are in their 90s and in jail.
"I'd hate to be in their shoes."
By Michael Burgess

Email

Michael