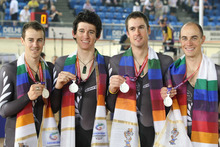 The track cycling careers of Sam Bewley and Jesse Sergent will culminate at the Olympics as the New Zealand pursuit team prepares to go beyond Beijing bronze and into a ride-off for London gold.
Both riders look set for promising futures on the road after the Games. Sergent showed a glimpse of such talent with third in the stage 21 time trial, debuting at the Giro d'Italia last month.
Bewley (24) and Sergent (23) have raced together since 2005 when New Zealand won the team pursuit at the junior world championships in Austria. They lived, trained and worked together until late last year when the Lance Armstrong-founded Team RadioShack declined to renew Bewley's contract.
Such is their bond, they once even stuffed a punctured tyre with grass to get home from the sparsely populated hills around Girona.
"I get pretty sick of Jesse," Bewley jokes. "We're forced to spend so much time together. When we were training with the Trek Livestrong team at Colorado in July 2009 he went away to visit his sister in London. We realised we hadn't spent a night apart since February.
"Now we live about 30 doors away in Girona. It's good to know a close mate is just down the street, especially if you're looking for company on a six-hour training ride. It makes the place seem less isolated."
Sergent agrees: "I spend more time with Sam than I do with my girlfriend."
Sergent continues to ride for the merged RadioShack Nissan Trek team while Bewley has joined Orica-GreenEdge. Last week the pair completed a training block with their track team-mates at Aigle, a town nestled in Switzerland's biscuit-tin lid heartland.
"We have the luxury of putting our road commitments to one side in the middle of the season to knuckle down riding the fastest 4km on [velodrome] boards," Bewley says. "Not having to worry about getting over mountains on 200km road stages makes a big difference."
Bewley and Sergent are joined in the national team pursuit squad by Olympic debutant Aaron Gate and Beijing veterans Marc Ryan and Westley Gough. They're endeavouring to bridge a time chasm with Britain and Australia before the Games.
At April's world championships in Melbourne, Britain won and Australia was second. Both sub-3m 54s times. Third-placed New Zealand had a time of 3m 57.592s. The only other team to go under 4m was Russia in 3m 59.237s. New Zealand's best time is 3m 55.295s, set at the Oceania championships last year. Olympic bronze is expected; pushing up the podium is a trickier proposition.
"I would have been happy walking away a year ago but I want to go better than bronze," Bewley says. "That goal is realistic but it means making no mistakes when we step off the London track on August 3."
By Andrew Alderson

Email

Andrew