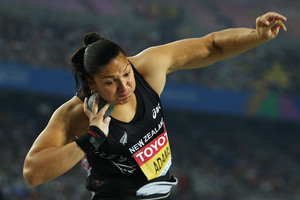 Valerie Adams is a strong favourite for gold in London. Photo / Getty Images.
New Zealand Olympic bosses have set a target of 10 or more medals at London, which would represent the best return for this country in two decades.
Kiwi athletes won nine medals in Beijing in 2008 (three gold, two silver, four bronze) which was an improvement on Athens (five), Sydney (four) and Atlanta (six). You need to go back to Barcelona in 1992 (10) to find the last time New Zealand hit double figures and the best return at an Olympics is the 13 won at Seoul in 1988.
There's a high degree of confidence that number could be threatened in London, with High Performance Sport New Zealand chief executive Alex Baumann saying "10 or more" medals is realistic. If that can be achieved, it would push New Zealand past 100 Olympic medals - the figure currently sits on 90 (89 summer, one winter).
"We believe we are on target for 10 or more medals," Baumann said. "We are quite confident of that number but know anything can happen at an Olympic Games."
Driving that confidence are results from Kiwi athletes and teams on the world stage in the past 12 months. HPSNZ have been tracking athletes for the past six years and seen an upward trend in New Zealanders finishing in the top three at world championships.
In 2007, the year before the last Olympics, nine finished in the top three of their respective world championships but this number jumped to 17 in 2010 and 21 last year - 22 if the women's hockey team are included after they finished third at last year's Champions Trophy. This won't translate into 22 medals in London because the level of competition is always higher in Olympic year.
Valerie Adams (shot put) and Hamish Bond and Eric Murray (rowing) are strong favourites for gold in London with Lisa Carrington (canoeing), Mahe Drysdale (rowing), Andrea Hewitt (triathlon), Jo Aleh and Olivia Powrie (sailing), Rebecca Scown and Juliette Haigh (rowing), Storm Uru and Peter Taylor (rowing), Nathan Cohen and Joseph Sullivan (rowing) and Linda Villumsen (road cycling) also contenders.
NZ at the Olympics
Total medals: 90 (89 summer, 1 winter)
First medal: Harry Kerr (3500m walk, 1908)
Best medal haul: 13 (1988 Seoul - 3 gold, 2 silver, 8 bronze)
Worst medal return: 0 (1948 London)
Most gold medals: 8 (1984 Los Angeles)
- APNZ