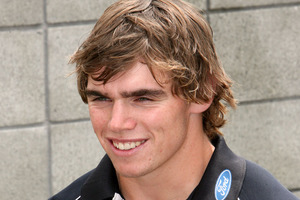 Like any young player heading away on their first overseas tour with a senior national side, Tom Latham is understandably excited but he's also acutely aware of the opportunity he has to cement his place in the New Zealand cricket side during the next month in the West Indies.
To say the national wicketkeeping conundrum had been cleared up since Brendon McCullum gave up the gloves at test level would be like suggesting Greece has a profitable economy.
National selection manager Kim Littlejohn publicly declared last week that 32-year-old Kruger van Wyk was the country's No 1 gloveman at test level after playing only three tests towards the end of last summer.
Former opening batsman BJ Watling is also in the mix given he was manufactured into a test wicketkeeper in a bid to boost the middle-order batting and his last test innings remains an unbeaten century against Zimbabwe in January.
A hip injury cut his international summer short and van Wyk was given a chance. Don't forget Reece Young was also tried and discarded last summer, while McCullum continues to keep wicket in one-dayers and Twenty20s.
Watling and van Wyk have both been included in New Zealand's 15-strong test squad for the tour of the West Indies.
Then, there's Latham.
The 20-year-old Cantabrian made his international debut as a middle-order batsman against Zimbabwe when he played three one-dayers against the African nation in February.
The left-hander represents the new breed of talent coming through and, while he is in the one-day and Twenty20 squads only for the tour of the West Indies that gets underway on Sunday morning, he knows there could be a test berth on the horizon if he can perform.
New Zealand have a heavy diet of test cricket in the next year as they will pull on the whites against India, Sri Lanka, South Africa and England.
Add in van Wyk's age and McCullum's dodgy knees and back and you can see how there's plenty of scope for Latham to be handed the gloves at test or one-day level in the near future.
"It's a bit up in the air at the moment, we don't know what's going on and who's No 1," Latham told APNZ. "But I still think Kruger did a bloody good job against the South Africans and BJ did well against Zimbabwe so there's obviously plenty of competition for that spot. If they see me as a test 'keeper, I'll be trying to do all I can to keep knocking on the door and put pressure on the other two.
"I've talked to Kim about that and they see me as a keeping option, so I'm just hoping to get an opportunity with the gloves and try to put my hand up and stake my claim that I'm good enough to be there. Obviously I'm really keen to keep the 'keeping side of things going. It adds another string to your bow and it helps get on tours."
Latham made a decent fist of his first foray into international cricket with scores of 24, 48 and 7 not out against Zimbabwe and he finished the summer with two 50s in the Plunket Shield and a maiden first-class century for his province against Central Districts in March.
The Black Caps meet the West Indies in two Twenty20s in Florida in the US before five one-dayers and two tests in the Caribbean.
Latham, who was also a promising schoolboy rugby player before he tossed the boots aside to focus on cricket, said he couldn't wait to get underway.
"I'm really looking forward to it and I'm just going to try to learn as much as I can. It's going to be tough, I know it's going to be tough. I've tried to prepare as best I can for the situations and bowlers that are going to be there."
- APNZ